Mitsubishi Motors in the UK retailers have spoken of their "shock" at Mitsubishi Motor Corporation's "unexpected" decision to exit the UK and wider European markets.
While many have already begun preparing for life without the brand, Nathan Tomlinson, managing director of Devonshire Motors and a member of Mitsubishi's Motors in the UK's 'dealer council', said that he held out little hope regarding the finer detail of the OEM's plans in the near-term.
"It's clear from the conversations I've had that this was as much of a genuine shock to CCC (UK importer, The Colt Car Company) as it was the rest of us," said Tomlinson.
One AM dealer source told AM that he expected Mitsubishi's existing UK franchise contacts to be "ripped up" and replaced by a new sales and aftersales agreement, but speaking to AM this morning (July 28), Tomlinson suggested it could be over a year before retailers hear more.
He said: "We're not expecting much more detail until August next year."
AM reported exclusively on Mitsubishi Motor Corporation's (MMC) decision to withdraw from the UK after a global announcement revealed that it planned to "freeze" the introduction of new models to Europe immediately.
A letter from UK importer The Colt Car Company to UK franchisees detailing the "unexpected" nature of the announcement and the longer term prospects for the business was leaked to AM, however, shedding more light on the move.
Tomlinson suggested that the impact of MMC's decision to withdraw from Europe might not be felt straight away as many operators ran successful used car and aftersales operations.
And he said that The Colt Car Company's stock of around 15,000 vehicles at Portbury Docks – along with an ability to order more stock until the end of 2021 – would ensure a steady supply of new pick-ups and cars in the near term.
Tomlinson said that it was his hope that yesterday's news would not further dampen consumer confidence in the brand at a time when many businesses are battling to recover from the COVID-19 lockdown period.
"The saving grace for many Mitsubishi dealers is the cost base reduction. We are able to run a very efficient operation to continue to do a good job for all parties," he said.
Mitsubishi revealed a new corporate identity in 2018 and many franchisees were expecting to invest in upgrades to their facilities.
Leeds-based Mitsubishi franchisee Luscombe Motors is one operator which AM understands will be able to avoid additional costs after it moved MG Motors under the same roof as its showroom for the Japanese brand during lockdown.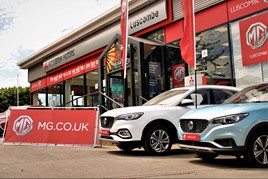 Managing director, Robin Luscombe, told AM at the time of the new MG franchise's opening that he had expected – prior to the impact of the coronavirus pandemic – that he may be required to extend the facility to accommodate both brands.
Speaking to AM today (July 28), Luscombe said: "At the moment we've been left to play everything by ear.
"The news has come completely out of the blue and at the moment I'm just counting myself quite fortunate that we'd already taken the decision to introduce that new MG franchise."
Speaking to AM yesterday, a dealer source said: "The real issue is for those smaller dealers who only trade in Mitsubishi. Today's news is going to be a massive blow for them and effectively ends their franchised business."
Tomlinson is now on the lookout for a new dealer partners for his Devonshire Motors business, which is currently a solus Mitsubishi operator.
"Our next challenge is to prove that we can achieve what we have achieved with Mitsubishi with another brand," he said. "That's something that I find really exciting."
Tomlinson added: "An OEM looking at us might look at the territory and do an average calculation based on rooftops and opportunity, but that wouldn't be doing us justice.
"We have the ability to produce a market share five- or six-times a brand's average whilst delivering a bespoke customer experience.
"Our customers and staff have been almost a friendship, for many years and I don't see that changing at all."
Some retailers who spoke to AM questioned the Mitsubishi network's profitability for franchisees.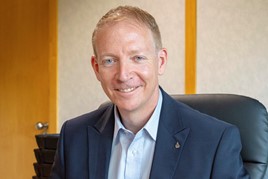 In an interview feature with managing director, Rob Lindley, at the start of last year, AM reported that the brand's retailers had achieved an average of 1.3% return on sales (RoS) to the end of September 2019, compared with 0.8% at the same point in 2018.
At that time, Lindley proposed that the brand was capable of selling 50,000 car-per-year in the UK and there were plans to extend its franchised retail network – currently 103 sites – to 138 by 2022.
Speaking at the time, Lindley said: "Our plan will rely on product, the right dealer network with the capacity and capability to grow, and, thirdly, brand investment."