Pendragon has opened the doors of its new Stratstone Porsche Centre in Stockport as Porsche Retail Group prepares to move into its new Mayfair showroom in central London.
Speaking to AM last week, as the group announced 1,800 job losses, Pendragon chief executive Bill Berman, said that, despite his group's recent cost cutting measures, "If I could open another 10 Porsche Centres of 20 Ferrari stores I would."
Today (August 3) he realised part of his plan to grow with the German sports car brand as the group continues to progress its plans for another new facility on the outskirts of Nottingham.
Speaking today, following the opening of the new Stratstone showroom, off the M60, on Marsland Street, Stockport, Berman said: "We are delighted to announce the opening of our newest Porsche Centre in Stockport.
"This is a significant investment for the local area and for our business at such an important time in the UK automotive industry.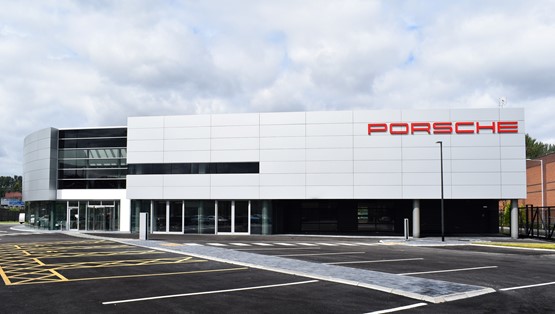 "We're looking forward to welcoming customers to the new Centre and exploring the state-of-the-art facilities on offer."
Fellow AM100 retail group, Porsche Retail Group, will officially make its move from its current site at Berkeley Square to the new Porsche Centre location on Clarges Street, Piccadilly, on August 10.
It will unveil its new facility via an official opening video to be streamed online at 10am that day.
The manufacturer-owned group said on its website today that it also wanted its customers to join in "the celebrations" by sharing their memories of Porsche Centre Mayfair past and present on Instagram with #MayfairMoments.
A statement about the new Clarges Street showroom, said: "A short walk from our current location, our new state-of-the-art Centre remains in the heart of Mayfair, located on the famous Clarges Street.
"Steeped in history and tradition, Mayfair and its immediate environs is also home to London's largest concentration of five-star hotels, Michelin-starred restaurants and some of the world's most famous destination shopping addresses.
"Fittingly for the location, the new Centre will also be the only Porsche Centre in the UK to feature a Porsche Design shop."
Porsche is currently on a drive to expand its UK retail network as it targets growth with the launch of a new range of electrified vehicles, headed-up by its new Taycan electric vehicle (EV).
Among the car retail groups that have invested in the brand in recent months are JCT600, in Newcastle, and Listers Group, which opened its first retail point with the brand in Hull.