Car retailers across the UK will be donning face masks after Prime Minister Boris Johnson announced more stringent measures to keep the COVID-19 infection rate in check this lunch time.
Johnson announced more stringent face covering rules, a 10pm curfew for pubs and restaurants and a tightening of the existing "rule of six" restrictions to include indoor sports in his speech to the House of Commons.
The Prime Minister said that the new restrictions, set to be imposed nationwide from Monday (September 28), could remain in place for six months or more.
But he said: "The new restrictions in England have been carefully gauged to bring the biggest reduction in the 'R' number with the minimum impact to lives and livelihoods."
The key development from a car retail point-of-view was the mandatory wearing of face masks in all retail environments and an increase in the fine levied to those who aren't compliant, from £100 to £200 for a first time offence.
While construction and retail staff will be allowed to continue to attend their place of work, the Prime Minister also reintroduced guidance for anyone who is able to fulfil their job role from home to do so.
Fines for non-compliant businesses are expected to be more significant. Johnson said: "Businesses could be fined or closed if they breach the rules."
No changes to the one metre-plus social distancing guidelines were announced in Parliament this lunchtime, suggesting that the car retail sector's test drive activities should still be allowed in conjunction with personal protective equipment (PPE) face masks.
AM intends to further scrutinise Government documentation and liaise with industry bodies to gain further clarification on the new legislation's finer details, however.
Responding to the Government's new COVID-19 restrictions announcement, JCB Group managing director, Jonathan Bischoff, told AM: "There were clearly key takeaways from the speech that we will have to respond to and we'll be working quickly to get the message about face masks around the group.
"These are changes that we have to comply with and we have to ensure that our teams are made aware of them in good time and are on-board from day one."
Today's announcement from the Prime Minister comes less than 24 hours after Government's chief medical officer, Chris Whitty, and chief scientific advisor, Patrick Vallane, modelled the COVID-19 pandemic's potential growth in the UK.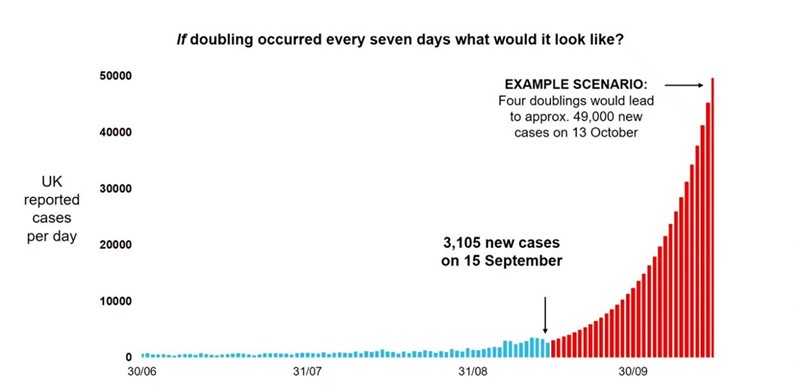 Despite 13 million people currently being subject to localised lockdown restrictions across the UK, the infection rate continues to climb and they reported that the infection rate is currently doubling every seven days.
Vallance said: "If this continues, by mid-October we would end up with something like 50,000 new cases per day. A month later that would lead to 200 people's deaths per day.
"The changes, therefore, are to ensure that doubling time does not remain at seven days."
Boris Johnson reiterated today that a minority of UK residents currently have COVID-19 anitbodies in their systems having already contracted the disease.
Vallance said that around 8% of the population, around three million people, had antibodies.
He said that there has been evidence of people contracting COVID-19 for a second time, however.