TrustFord has pledged to donate £20,000 from the TrustFord Trust to Ben in response to the charity's urgent plea for assistance amid £1m funding shortfall.
The sum comes on top of the £40,000 already raised for Ben through its Breakout For Ben 2021 Active challenge, which will see teams of employees from the Ford of Britain-owned AM100 car retail group cover the greatest distance possible by walking, running, cycling or swimming.
In recent years teams have taken to four wheels to 'Breakout for Ben', but COVID-19 has called for a change of tack this time around, and the challenge is set to take place in the New Year.
TrustFord chairman and chief executive, Stuart Foulds, said that the business' pledge of £20,000 for charity partner Ben was aimed at helping it to deliver added support at an "extremely challenging time" for the industry and its employees.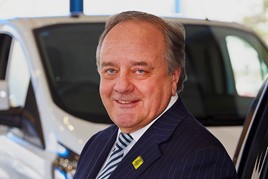 Foulds, who took part in AM's AM100 webinar – to unveil the 2020 rankings and report – last week,said: "Ben is an incredibly important charity to all of us in the automotive industry and it has helped thousands of colleagues over the years and I was really sad to hear the charity had made an urgent appeal for assistance."
"Right now this charity and the people in our industry need that support more than ever, so I am really proud to donate £20,000 to help plug the gap, as well as the funds raised through our Breakout For Ben 2021 Active challenge."
Ben issued an urgent plea for financial assistance amid a £1m funding shortfall and a COVID-triggered 50% increase in calls for help from automotive industry employees.
The charity's fund-raising efforts were heavily impacted by the COVID-19 coronavirus crisis when it was forced to cancel its annual Ben Ball earlier this year.
Marshall Motor Group chief executive, Daksh Gupta, pledged £10,000 donation to Ben as part of a 'Xmas Do-nation' charity campaign launched by MotorVise last week.
MotorVise itself announced that it would be handing over the £1,000 it intended to spend on its now cancelled staff Christmas 'do' to Ben as part of the scheme – the brainchild of managing director Fraser Brown and sales director Nick Coyle.
Ben has not been the only charity organisation to benefit from TrustFord's generosity in recent weeks.
A North London soup kitchen has been helped by TrustFord Edgware with the purchase of a new Ford Transit Custom Plug-in Hybrid.
After Muswell Hill Soup Kitchen – launched in 1994 – was forced to close due to COVID-19, organisers launched an appeal to raise funds to purchase a van to help run its day to day operations.
When the time came to purchase the van, TrustFord's discounted rate was added to by a £1,000 donation from the TrustFord Trust to help support the service.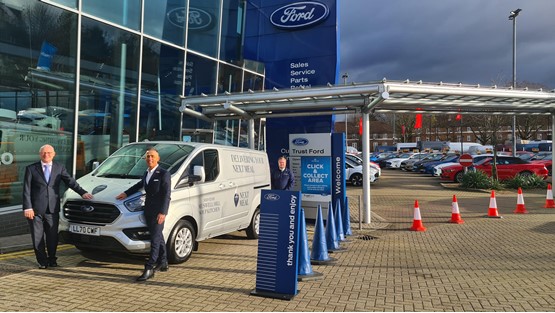 Paco Rodriguez, general manager of TrustFord Edgware, recently handed over the van and keys to Martin Stone, leader of the Soup Kitchen at their Transit Centre in London.
Rodriguez said: "We're always looking for ways to give back to our local community, so I was delighted that Martin brought the fantastic fundraising efforts to our attention and it was a pleasure to help them reach their target, allowing them to purchase the van.
Martin Stone, leader of the Soup Kitchen said: "The van is essential for picking up food and for delivering hot meals to the local community.
"The van also helps us connect with those in need within our area. We really would struggle to operate without it.
"I am also grateful to the dealer group's Trust for generously making an additional donation to help us in these tough times."