Close Motor Company has replaced its Mitsubishi Motors in the UK dealership in Corby with a new Suzuki franchise.
The family-run group has operated the Mitsubishi franchise in the Northamptonshire town for 20 years and opened a second Mitsubishi sales point, in Peterborough, back in 2016.
But Mitsubishi's 2020 announcement to its franchisees that it was set to withdraw from the UK – as exclusively reported by AM at the time – has prompted a re-think of its relationship with the brand.
Close's Group operations manager, Gareth Hill, took to LinkedIn to announce the move to introduce Suzuki to its site on High Street, Old Corby.
Hill said: "A new chapter is upon us at Close Motor Company as we welcome Suzuki GB PLC to our Corby site.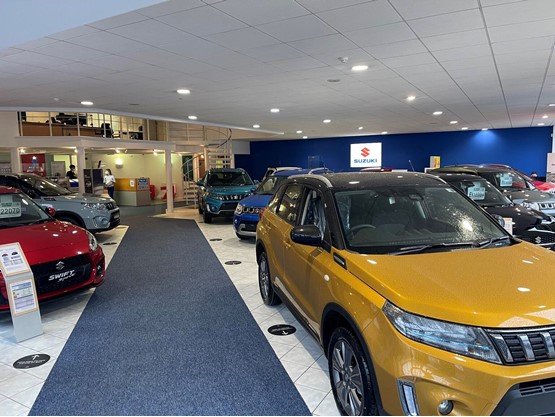 "Our staff at our Corby site are excited to start #helpingyoudrivehappy with the full range of Suzuki GB PLC cars.
"We cannot wait to welcome customers old and new to the fully refurbished site.
"We our already open to look after all of your #suzuki servicing, warranty and parts work."
Hill added that there were "exciting times ahead", describing Suzuki as a "forward-thinking manufacturer".
Close is the latest in a string of franchised car retailers who have turned to Suzuki after news of Mitsubishi's planned exit from the UK.
Westaway successfully completed the opening of its new Suzuki dealership in nearby Northampton back in October.
A month earlier Richmond Motor Group and Delgarth Motor Group made the same switch within the space of a week, meanwhile.
Richmond began welcoming customers to its newly-created facility adjacent to the Skoda franchise at Broad Oak, Botley, which became part of the group with the acquisition of Sparshatts in August last year.
Delgarth, meanwhile, opened the doors to its new Suzuki franchised site in the Japanese brand's UK hometown of Milton Keynes, occupying another site which had also previously housed a Mitsubishi franchise.
Mitsubishi retailers expressed their shock at Mitsubishi Motor Corporation's "unexpected" decision to exit the UK and wider European markets following an announcement on the move back in July.
Mitsubishi Motors in the UK managing director Rob Lindley later told AM that he expected "no mass exodus" of car dealers from the brand's franchised UK retail network.
Lindley insisted in his interview with AM that "as it stands nothing has intrinsically changed".
He added: "For me it's a story, but it's not the story people have made it out to be.
"Mitsubishi is continuing and we're continuing to operate. Yes, there are no new models being introduced into the market, but this isn't simply the story of a brand pulling out and disappearing.
"We'll still have new and used car stock well into 2021 and new cars available to buy well into 2022 and beyond.
"It gives us time to see what our next steps will be."