Sytner's CarShop is set to follow in the tyre tracks of Trade Centre UK by developing a new used car supermarket on the site of a former Showcase Cinema.
The AM100-topping franchised retail group's used car supermarket division is set to demolish Derby's former cinema and a nearby Pizza Hut restaurant to follow-up its recent opening of a flagship facility in nearby Nottingham with another new site on Foresters Park.
Like the Walsall Showcase Cinema site acquired by Trade Centre UK last month, Derby's cinema was closed in September last year as a result of the impact of the COVID-19 pandemic.
Sytner has submitted its planning application to Derby City Council via ATA Design Ltd.
The sprawling proposed site looks set to be a far cry from the smaller footprint adopted by the first of CarShop's new CarShop Express stores, opened in Leicester in April.
A design and access statement submitted by ATA said that the location's existing cinema buildings have to be demolished as "both the existing cinema and Pizza Hut buildings were designed and built in such a way that they can't be re-modelled in order to satisfy the needs of a car dealership and meet their brand expectations".
The application said that CarShop's plans could create 60 jobs.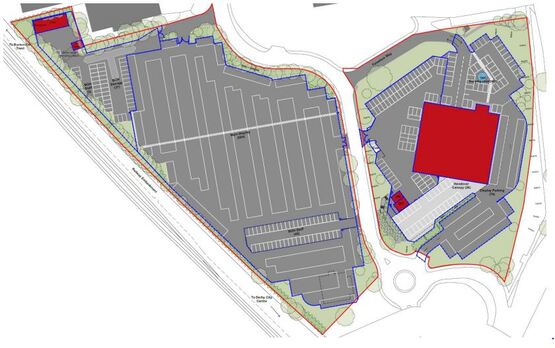 The new car supermarket in Derby will be spread across to adjacent sites and will comprise of a large vehicle display area and aftersales facility, an indoor sales area, service reception and associated offices and customer facilities, if given the go-ahead.
Back in February Sytner owner Penske Automotive revealed that the CarShop brand was set to go global as it looked to rebrand its US CarSense operation and expand its used car supermarket footprint from 17 to 40 locations by 2023.
The US-based car retail business revealed its plan for CarShop – the Northampton-based business acquired in 2017 shortly before Wakefield-based car supermarket group, The Car People – as it took its "next step on online sales".
Penske said that it would follow-up the December opening of its latest CarShop location, in Nottingham, with an expansion of its Used Vehicle "SuperCenters" in both the UK and US.
Speaking at the time Roger S. Penske, the US business's chair of the board and chief executive, said: "We expanded to 17 locations after opening Nottingham in the UK in December.
"This new supercenter is expected to retail approximately 6,000 units and earn between $4 million and $5m (£2.6m and £3.62m) EBT annually.
"During the fourth quarter, our supercenters sold nearly 12,000 units, down 23% as volume was impacted by COVID.
"Despite the decline, variable gross has increased 19% as we improved vehicle sourcing by using our internal online auction and Buy Your Car Now purchases."