The CarShop brand is set to go global as Penske Automotive looks to rebrand its US CarSense operation and expand its used car supermarket footprint from 17 to 40 locations by 2023.
In a 2020 annual results call this week, the US-based owner of the AM100's Sytner Group and CarShop – the Northampton-based business acquired in 2017 shortly before Wakefield-based car supermarket group, The Car People – revealed plans to coincide its growing used car operation as it takes its "next step on online sales".
Penske said that it would follow-up the December opening of its latest CarShop location, in Nottingham, with an expansion of its Used Vehicle "SuperCenters" in both the UK and US.
Roger S. Penske, the US business's chair of the board and chief executive, described the used car operation as "a significant future growth opportunity".
Record results
Penske said: "We expanded to 17 locations after opening Nottingham in the UK in December. This new supercenter is expected to retail approximately 6,000 units and earn between $4 million and $5m (£2.6m and £3.62m) EBT annually.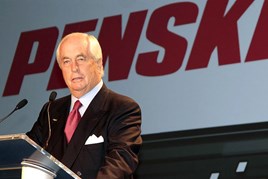 "During the fourth quarter, our supercenters sold nearly 12,000 units, down 23% as volume was impacted by COVID.
"Despite the decline, variable gross has increased 19% as we improved vehicle sourcing by using our internal online auction and Buy Your Car Now purchases."
Penske reported record financial results in 2020 as it delivered cost savings of approximately $125 million to $150m (£90.6m to £108.8m) across its businesses.
The group reported revenues of $20.4bn (£14.8bn) for the full year, alongside a $545.3m (£395.4m) profit.
UK lockdown trading
Its annual statement revealed how it had leveraged new online platforms in both sales and aftersales to make continued trading possible during the COVID-19 pandemic, delivering 12,000 car sales in the UK as lockdown measures stifled trading during November.
Penske said: "In the UK, our multi-channel process, click and collect, allows a customer to complete each step of the buying process digitally.
"The customer can receive -- reserve a car for $99 (around £72), apply for finance through our proprietary platform, receive instant credit approval and obtain a guaranteed trade in price. Transactions are processed digitally and the customer can choose from over 100 locations to collect their vehicles.
"Through these channels, we delivered 12,000 cars in November when all showrooms were closed in the UK. We now are going to introduce to our channel of used car supercenters the same capability and with the next step on online sales.
"So when you combine preferred purchase, buy online, click and collect, online scheduling and bill pay, we have the tools to allow our customer, perform any part of the transaction online or to shorten their visit to our stores."