Ssangyong Motors UK has welcomed a second franchise for the city of Hull with the opening of Livingstone Motor Group's new dealership facility.
The retailers becomes the latest Mitsubishi franchisee to find a new OEM new car sales partner as the Japanese brand's network makes the transition to become an aftersales-only operation under new owner International Motors, part of the IM Group.
Livingstone Motor Group is also an Isuzu UK franchisee.
Its new Ssangyong dealership, formerly known as Hull Mitsubishi, is located on Clive Sullivan Way, Hessle – around 14 miles from Maple Garage's Ssangyong franchise on Aldbrough Road, Flinton.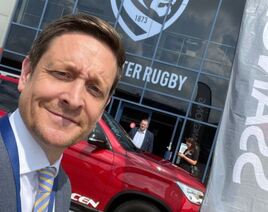 Livingstone Motor Group director, Andrew Iveson, pictured at this week's unveiling of Ssangyong's new partnership with Gloucester Rugby and its Academy, said: "We have been a main Mitsubishi dealership for 30 years, now expanding to the exciting range that SsangYong have to offer.
"We have always put our customers at the heart of everything we do, and we believe that coming to us to buy a car or have a routine service should be both professional and easy.
"Customer service should not just be spoken about but put into practice every day, without fail.
"We have a dedicated team who our customers love; we know that the new products will be welcomed with open arms. It's great to be part of the SsangYong gang."
Kevin Griffin, the managing director at SsangYong Motors UK, said: "We are delighted to partner with Livingstone Motor Group. The group has a wealth of experience and we look forward to working with the team in Hessle."
The completion of Livingston Motor Group's appointment to the Ssangyong network comes just days after Subaru and Mitsubishi dealer Ashby and Mann opened its new dealership site in Hinckley, Leicestershire.
Last month, meanwhile, the brand revealed the electric Korando e-Motion, its first electric model, and confirmed it will be launched in Europe later this year.