Pendragon is preparing to launch a fresh used car proposition under the brand ZenCar by the end of this year.
The top 10 AM100 motor retailer, which has a network of Car Store used car supermarkets, wants to take its multi-marque used car sales "digital first" and will phase out the Car Store brand following ZenCar's launch in late Q4.
AM has learned that staff were informed by Pendragon's chief executive Bill Berman last week, when he told them the brand will stand out in a competitive marketplace and signals a strong position for the business.
When approached by AM Pendragon said it would not disclose full details at this time, however Berman confirmed in a statement that ZenCar is the new digital-first used vehicle proposition from Pendragon.
He added: "As a group, we are committed to transforming automotive retail through digital innovation and operational excellence and ZenCar represents just that.
"This new brand will deliver a forward-thinking service that we believe will provide consumers with the best retail experience for used vehicles on the market, including an unrivalled product portfolio, unmatched expertise and an innovative customer-centric approach.
"ZenCar will launch to market in late Q4 2021 and roll out through a phased approach into 2022. We can't wait to share it with our customers; your car, your way with ZenCar".
AM has previously revealed proposals for it to have a 'hub and spoke' model incorporating physical locations designed to fulfil end-to-end digital sales and home delivery.
Since becoming Pendragon's chief executive in February 2020 Berman has steered the dealer group back into profitability through a series of measures including redesigning its management structure, reviewing capital expenditure, ramping up digital and online sales and closing or merging loss-making dealerships.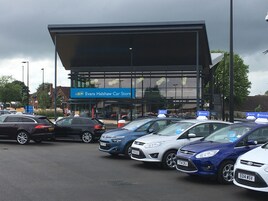 Its Car Store network, which Pendragon's founding chief executive Trevor Finn had grown quickly to from zero to 34 outlets between 2015 and 2019, in a £100m investment plan that Finn hoped would double the group's used car revenues, was slashed to 12 sites by the end of 2019 after Finn's exit to cut losses.
Under Berman, it has since reduced further to nine Car Store outlets in the Midlands, East Anglia and South West, which are likely to be rebranded ZenCar.
Regarding ZenCar, one industry analyst told AM: "Pendragon needs to get this right. Car Store was never the speedy success that Trevor Finn had promised, and competition for used car buyers has increased nationally with the likes of Cazoo and Cinch plus heavy marketing spend from Vertu Motors and Marshall.
"I'd expect Pendragon to put its marketing might behind ZenCar in 2022."
Since retiring from Pendragon, Trevor Finn has become a non-executive director of Sweden-based motor retailer Hedin Group, whose chief executive Anders Hedin holds a significant level of Pendragon shares and recently led a failed attempt to block bonus payments to Berman.