Renault Retail Group has closed its Renault London West site and relocated the business into a former Robins & Day Vauxhall showroom at Staples Corner.
Renault, Dacia and Alpine will be available at the site, which features the brands' new corporate identity (CI) and is due to open at the end of the February.
Andy Fisher, dealer principal at Renault Retail Group, said on LinkedIn: "Renault Staples Corner is coming soon. Our new site at Staples Corner is progressing well and the site is looking phenomenal, we have been lucky enough to get the brand-new signage for Renault, Dacia and Alpine and I have to say it looks fantastic.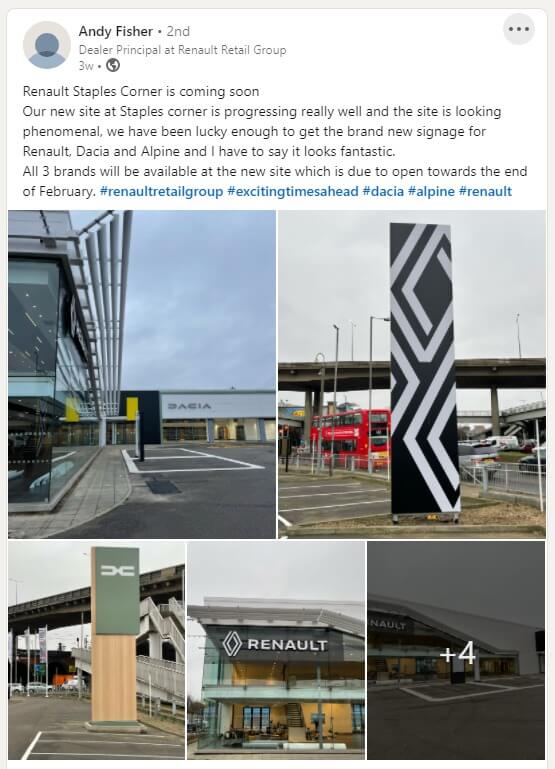 "All three brands will be available at the new site which is due to open towards the end of February.
"Renault London West has been the flagship for the group since 1983, the team have done a fantastic job in moving us from here to our new home in Staples Corner. A new era starts and one which is very exciting with a new home and some fantastic products just around the corner."
The retail group have also opened a new van centre in Hayes.
Groupe Renault revealed its "Renaulution" strategy last year, which aims to halve the Renault, Dacia, Lada and Alpine carmakers' number of vehicle platforms while delivering 24 model launches by 2024.
Renault UK announced Guillaume Sicard as its new MD to lead the national team through the strategy, which Renault Group claims represents a new era for its business.
It is said his contribution to the UK "will be instrumental over the next five years as the group accelerates its move into the future of mobility.
In April 2021 Groupe Renault UK went through a leadership reshuffle as part of its Renaulution plan for long-term growth.
The Renault Nissan and Mitsubishi alliance has revealed plans for 35 electric cars in 2030 following investment of 23 billion euros during the next five years in common platforms, connected mobility and pure electric powertrains.
Renault celebrated a 52% uplift in its hybrid and electric car sales across Europe in 2021, although its global total vehicle sales fell by 6.7%.