Constellation Automotive has denied that Marshall Motor Group's exit from the Kia UK franchised dealer network is connected to leadership changes following its takeover of the former car retail PLC.
Drayton Motors took over Marshall's Scunthorpe Kia franchise this week, while Peterborough-based Donalds Group has been linked with a move to take on the group's Ipswich operation as the two parties severed ties in a move which one AM source suggested had been "progressed very quickly".
But Constellation denied the suggestions of AM's source that the split had come after the newly-privatised group upset Kia bosses with a lack of consultation over board changes which included the departure of chief executive Daksh Gupta.
A spokesperson for the BCA, cinch and WeBuyAnyCar owner said: "The origins of the Marshall/Kia separation go back more than one year ago, well before the initial Constellation Automotive Group move to buy Marshall Motor Group."
A recent AM manufacturer profile interview with Kia UK president and chief executive Paul Philpott revealed that the brand is aiming to defy a stalling new car market to deliver a record 100,000 registrations in 2022.
The Korean OEM - the AM Awards 2022's Manufacturer of the Year - has launched a new Sportage SUV and Niro alternative fuel vehicle (AFV) line-up this year and is rolling out a new upmarket corporate identity after its average franchisee achieved 2.7% return on sales in 2021.
Marshall's exit from the Kia UK franchise comes just over a month after AM reported that manufacturer franchise partners including BMW, Mercedes-Benz and Volvo had given their backing to its newly-installed Constellation Automotive leadership team.
Responding to enquiries about the nature of Marshall Motor Group's departure from the burgeoning brand's retail network, a statement issued to AM by Kia UK said that it was with regret that "we cannot disclose individual details of partner agreements, or the corporate decisions that are made during the course of the franchise, as this is confidential between Kia UK and the franchise partner".
It added: "Kia UK works in partnership with its 192-strong dealer network. The nature of these relationships and the changing business environment results in the network evolving over time – with new premises, new franchise partners, transfer of ownership and other such processes.
"Kia always works respectfully with all dealer partners to ensure the best mutual business performance, working to pre-agreed guidelines."
Drayton Motors this week opened its new Scunthorpe Kia franchise in a former Dixon site opposite Marshall's former dealership off Normanby Road.
It takes the group to four Kia locations, joining existing sites in Boston, Grantham and Louth. It also operates Suzuki in Boston, following its February acquisition of the business from Cropleys, and Maxus in Louth.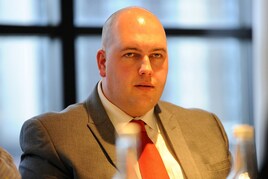 Managing director Darren Bradford refused to discuss the circumstances of the handover from Marshall, but confirmed that Drayton would be taking on all of the Scunthorpe site's existing staff.
He added: "It was four years ago that we sat down and set a growth strategy for the group and this opportunity has further boosted those ambitions in 2022.
"It's fantastic to be growing our relationship with Kia, it's a great brand, an easy franchise to work with, and they have an amazing product pipeline delivering growth for the network."
Bradford added: "We're currently working to identify land for a new showroom in Scunthorpe that subscribes to the new Kia corporate identity. We've inherited a good business, so we're excited about the potential Scunthorpe offers."
AM understands that Peterborough-based Kia, Mazda, MG and Volvo retailer Donalds Group has been linked with a takeover of Marshall's Kia franchise in Ipswich, but that the deal has yet to be concluded.
Donalds managing director Graham Wemyss would not comment when AM approached him for clarification of the situation.