Inchcape chief executive Duncan Tait and Constellation Automotive executive chairman Avril Palmer-Baunack were the only two car retail sector leaders to make the Auto Express Brit List 2022.
The ranking of "Britain's best automotive movers and shakers" was published today (June 22) and aimed to celebrate the efforts of individuals who have "done wonders for global car makers in the past 12 months", the Autovia Group publication said.
Ford's chief transformation and quality officer Stuart Rowley (pictured) topped the rankings, with Gerry McGovern, chief creative officer at Jaguar Land Rover (JLR) in second and Volvo president and chief executive Jim Rowan in third at the head of a field of OEM-employed big-hitters in the top 10.
Also listed are: 4) Michael Cole - President & CEO, Hyundai Motor Europe; 5) Julian Blissett, executive vice-president, General Motors, and president of GM China; 6) Matt Harrison, president and chief executive at Toyota Motor Europe; 7) Rory Harvey, senior vice-president at General Motors, and president of Cadillac; 8) Wayne Griffiths, president of Seat and Cupra; 9) Michael Straughan, chief operating officer, Aston Martin; and 10) Lyle Watters, general manager of Ford Passenger Vehicles in China.
Recently-promoted Alison Jones, formerly boss of Stellantis in the UK and now in a global role as senior vice-president of circular economy for Stellantis, was ranked in 11th place.
But only the two car retail-linked named made the top 50.
Tait, who has steered Inchcape PLC towards a focus on its global vehicle distribution business following an Inchcape UK restructure that will bring about the creation of the 20-site bravoauto used car division placed 33rd.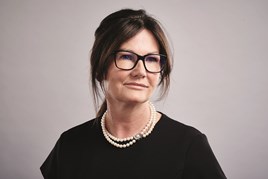 Palmer-Baunack, meanwhile, has helped to build on Constellation Automotive's foundations with remarketing giant BCA and car buying platform WeBuyAnyCar to establish online used car retail business cinch as a key rival to Cazoo, ranked 35th.
Commenting on the Auto Express Brit List 2022 Auto Express editor-in-chief Steve Fowler said: "While we must not downplay the ongoing lack of gender or ethnic diversity in automotive leadership we should celebrate the business flair and expertise that sparks such demand for British executive talent.
"It's one thing to rise to the top when business is straightforward, but the 50 names in our 2022 Brit List are winning through in the most challenging times our industry has ever faced, and we are delighted to recognise their achievements."
Click here to view the full Auto Express Brit List 2022.