Constellation Automotive's cinch online used car retail operation has posted a £149 million pre-tax loss in annual financial results for 2021/22.
Accounts filed with Companies House show Cinch Cars Ltd revealed its loss for the 12-month period to April 3, 2022 – a 578% decline on the previous year's pre-tax loss of £22m – as revenues reached £815.7m (2020/21: £59.6m).
In its results statement, cinch stated that it "meets its day-to-day working capital requirements through its cash reserves", adding that its losses were "consistent with the stage of development of the business, and ongoing investments in the cinch platform, marketing and operational scale".
It also revealed that parent company, Cinch Holdings Sarl, has confirmed its willingness to support the company for at least 12 months from the date the balance sheet was signed.
BCA, Marshall Motor Group and WeBuyAnyCar owner Constellation Automotive was accused of "opening Pandora's Box" when it launched cinch in October 2020 in a move that placed it in competition with its remarketing operation's car retail customers.
In May 2021 it attracted £1bn in new investment to continue its push to online car retail growth alongside the likes of start-up rivals Cazoo and Carzam, which ceased trading last summer.
The Abu Dhabi and Singapore sovereign wealth funds teamed-up with billionaire George Soros to back the business.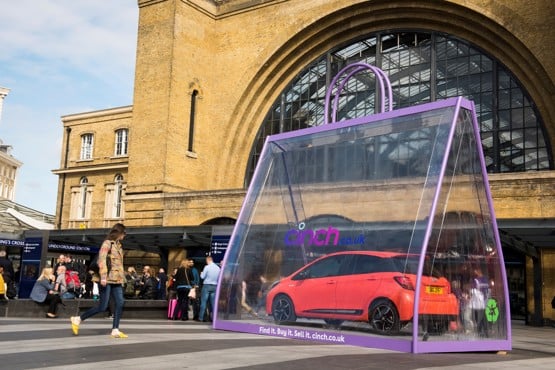 Since then, the business has sought to raise its profile with high profile multimedia advertising campaigns featuring presenter Rylan Clark.
It also followed market rival Cazoo into a marketing strategy which included a series of sports sponsorships, securing deals with the Lawn Tennis Association (LTA), England Cricket, Crystal Palace and Tottenham Hotspur.
Sponsorship of the Scottish Premier League, meanwhile, resulted in conflict with Glasgow Rangers FC when it refused to display cinch branding due to an existing deal with chairman Douglas Parks' Parks Motor Group business.
The cinch business' latest accounts show that cinch also invested £250,000 in increasing its share of Automotion Events – the company that operates the British Motor Show – from 30% to 48%.
The cinch business claims to take the "faff" out of car buying and offers home delivery as standard.
News of its losses came in a week that saw the New York Stock Exchange (NYSE) begin the process of de-listing warrants for online car retailer Cazoo as a result of "abnormally low" price levels.
Cazoo has withdrawn from its European used car markets to focus on the UK after announcing a restructure which aims to slash costs by £200m last summer.
The cinch business remains focussed on growth, however. Its result statement revealed: "The company will explore opportunities for growth through new marketplaces and strategic investments and acquisitions."