Ford is said to be in talks with its franchised partners as part of a bid to accelerate the "natural erosion" of its UK dealer network.
AM understands that conversations are already underway with franchisees as the brand looks to improve throughput at each of its franchised locations to deliver greater profitability amid a decline in sales and market share.
The move would mirror the approach already taken by Vauxhall, following its acquisition by the PSA Group, and Honda UK, which revealed its plans to slim its number of franchised sites in an exclusive interview with AM last year.
A Ford spokesman would only confirm to AM that the brand plans to meet with its UK franchisees later this month, adding that it would "share any news afterwards".
Speaking to AM at last week's unveiling of the brand's new Mustang Mach-E electric vehicle (EV) - which is set to start Ford's electricifcation push proper later this year - however, Ford of Britain managing director, Andy Barratt, said that the brand currently has around 400 UK retailers, including 117 Transit Centres and insisted that he was "pretty happy" with the network.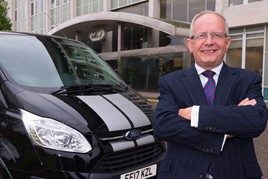 Barratt said that "there will still be changes", however, adding: "We tried to drive throughput but that's only via natural process."
He said: "It has been coming down progressively year over year. A lot of it has been through whether there's being acquisitions and then cleaning up of territories, whether it's been people, the smaller ones, cause we still have a two tier dealer network, whether that's the second tier, which has been the greatest reduction electing to either retire because there's no succession in the business or actually they've done enough automotive and actually there's a lucrative offer from an alternative use.
"There are certain budget supermarkets that are very hungry for some of our sites."
Barratt added: "It has been a natural decline coming, but that's consistent with our strategy where we're trying to reduce the variability in dealer processes to improve profitability and increase throughput through each dealer sites."
Ford finished 2019 with volumes down 7.1% at 236,137 and a market share of 10.2%, but remained the UK's top selling car brand according to data published by the Society of Motor Manufacturers and Traders (SMMT).
Barratt sought to highlight a growth in commercial vehicle (CV) sales in the same period, however. He said: "We only go back six, seven years, maybe eight, and we were selling 60,000 commercials a year, coming out the recession. We're now tipping close to 140,000 for the same network, so they're seeing considerable growth."
Sandicliffe Group is set to become the latest franchisee to contribute to a reduction in the Ford retail network.
In January AM reported that the John Grose Group will attempt to redistribute staff from its Ford dealership in Framlingham after taking the decision to close the franchised site.
Earlier this month Sandicliffe close its Ford dealerships in Hucknall and Melton Mowbray – alongside its Kia franchise in Melton Mowbray – as it focuses on its large-scale operations in the East Midlands.
The group said that its two closed Ford sites would "unify with" its state-of-the-art FordStore showrooms in Nottingham and Leicester as well as its larger Ford site in Loughborough.
Sandicliffe Kia Melton Mowbray will "join Sandicliffe Kia Nottingham and Leicester" in the merger, it added.
Commenting on the Ford closures specifically, Sandicliffe managing director, Paul Woodhouse, said: "FordStores are the future of Ford Motor Company and we are delighted to have been chosen as a leading partner of Ford of Europe to continue the distribution and servicing of the historic brand.
"We have invested heavily in our state-of-the-art FordStores in Nottingham and Leicester as well as making significant improvements to Sandicliffe Loughborough.
"In short, this merger enables us to provide our customers with better-quality facilities and a service they deserve."