Ford of Britain will meet with TrustFord's leadership team to consider the brand's high street retail strategy in light of experience gathered at its store in Next's Manchester Arndale Centre outlet.
The blue oval opened its retail operation at the city centre shopping destination in August 2018 as part of a collaboration with omni-channel car retail specialist Rockar exclusively reported by AM in January of that year before handing operation of the facility to its retail business, TrustFord, a year later.
But as the brand announced its intention to shift towards electrification, connectivity, car-sharing and online sales as part of the 'Ford 2025 dealer plan', which would deliver the closure of 160 to 180 of its 400 UK retail sites, it emerged that the future of the brand's presence on the high street may now hang in the balance.
"We'll come together at a point in time to share our learning," Ford of Britain chairman and managing director, Andy Barratt, told AM as he was asked to reflect on the project.
Speaking to AM at the launch of the new Ford Puma crossover, Ford of Britain's UK passenger vehicle director, Lisa Brankin, was more candid. She said that the Arndale Centre project had been an in interesting experience for the brand, but questioned: "If established high street names like Next are seeing a decline in footfall on the high street, we have to question why we might want to have a presence there.
"Does it deliver value? The jury is still very much out."
AM understands that the Arndale Centre store's associated costs have proved too high for Ford to consider beyond a second year of operation.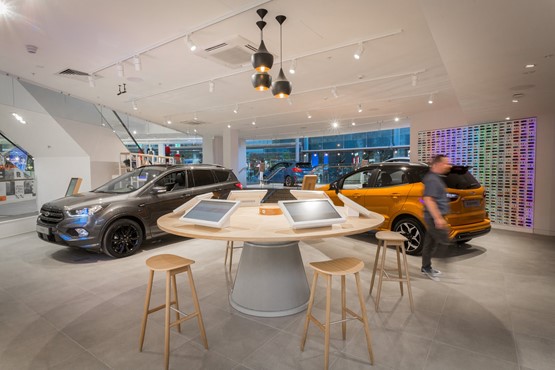 Speaking to AM about TrustFord's experience of Ford's Arndale Centre store this week, Trustford chairman and chief executive, Stuart Foulds, told AM: "It's been a very interesting experience for us.
"It's allowed us to gather a lot of customer data and reach customers that wouldn't otherwise have entered a car showroom and it's been particularly successful with crowd pleasing product like the Mustang and Focus RS."
But he added: "The business model is something that we might have to tweak to make it into a more affordable scenario."
The idea of affordability on the UK high street had been at the heart of the Ford retail store project from day one.
Launched alongside the brand's Buy Online retail platform it was seen as an ideal way for car retail to capitalise on high street retailers' struggle to justify the lofty business rates demanded by large city centre locations at a time when the retail sector is faltering.
Speaking to AM in the Spring of 2018, Rockar founder Simon Dixon said that Ford's link-up with Next could pave the way for the introduction of similar retail outlets to more of its 500 UK-wide stores.
He said: "Next has 500 stores across the UK, so the opportunity for us is huge."
Ultimately, affordability and the logistics of providing test drives in intensely urban environments may yet ensure that online retail remains the most effective solution as OEMs continue offer variety through an omnichannel approach to car sales.
Foulds insisted that TrustFord had succeeded in selling cars at the Arndale Centre facility and said that test drives were readily at hand for interested customers.
Ford is forging ahead with its plans to drive some of its sales online, however, and has launched its first-ever electric vehicle (EV), the Mustang Mach-E, via a purely online order system.
Barratt said: "I've been really encouraged by our online activity and the Next store has been a really important part of that process."
He added: "There's no doubt that the omnichannel approach is key to the customer today."
Ford's experience of opening a store in an urban retail environment may yet falter due to similar issues to those experienced by Hyundai Motor UK, which opened its stores in the Bluewater and Westfield Stratford shopping centres in 2014 and 2015, also in partnership with Rockar.
The Korean brand's store concept changed hands in quick succession after it handed the operation of the sites to London-based franchisee, Motorline, in February 2018.
Ancaster Group took on the franchise for the Bluewater Shopping facility just over a month after Motorline announced its departure from the site citing viability concerns.
Endeavour Automotive took over at the Westfield Stratford City car retail store after just 13 months, meanwhile.