Jaguar Land Rover (JLR) is promoting its online retail platform as a safe sales solution during the COVID-19 coronavirus outbreak a year after its initial roll-out.
The manufacturer said in a statement issued today (May 4) that over 3.3 million car buyers had now experienced the online portal, which was rolled-out in May last year.
It said that a range of digital sales services have been gradually rolled out over the past year, offering buyers part exchange valuations, finance quotes, finance applications and online reservations.
The trial of JLR's web-based retail solution began with began with just 5% of its website users and has gradually been made available to all, with deliveries honoured by its franchised retailers.
JLR UK managing director, Rawdon Glover, said: "Buying a new vehicle may not be the first thing on people's minds, but for those customers who do want to have a conversation about a new or pre-owned Jaguar or Land Rover, we are here to help.
"We have been refining our online customer journey for a while and, thanks to the support of our retail partners, we can now provide a comprehensive, convenient and flexible service that is safe for our customers and our staff."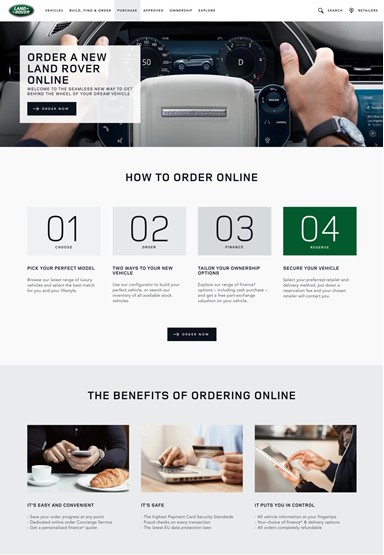 Online customers can configure a new vehicle go through the usual process of picking their engine, trim level and options and those opting for finance plans can see how much extra per month will be added or removed to their plan if they choose to add or remove options during the configuration process.
Deposits can be placed online and customers will be offered the option of making a cash payment or taking advantage of Personal Contract Purchase (PCP) or Hire Purchase (HP) finance solutions.
Buyers can also gain a valuation on their current vehicle for part exchange.
JLR's online portal also allows visitors to browse approved used stock available throughout its UK retailer network, with new virtual showrooms and video presentations offered to help inform their choices.
"Phone and video sales appointments are available so that customers can talk directly to specialist consultants to answer questions and discuss specific needs, removing the need to visit a showroom", the OEM said.
It added: "Jaguar and Land Rover retailers are also offering tailored services for vehicle deliveries in line with the latest government guidance.
"Many retailer sites have individual handover bays which have been prepared in-line with social distancing and hygiene guidelines and parts of the network are offering delivery options."
JLR first begun its online sale experiment through a relationship with omnichannel retail operator Rockar back in 2016.
Rockar underpinned its JLR franchised operation at the Westfield Shopping Centre with its web-based sales solution and the platform was introduced to wider parts of the network last year, with Harwoods Group becoming the first fellow retailer to adopt the platform.
Speaking at the time, Harwoods managing director, Archie Harwood, said: "Developing an omni-channel approach to retailing is essential in this day and age and Rockar's technology offered a fast, tried and tested execution method.
"We have processed over sixty orders on the platform with two orders having been completely self-service with very little promotion thus far.
"It's been an exciting addition for our team who can see great future potential in the use of the platform for the increase in productivity of new and used vehicle sales teams."