The fully electric Ariya SUV will be a conquest vehicle for Nissan Motor GB as it moves the brand from a volume to a value model, says managing director Andrew Humberstone.
In a recent interview at Nissan's Live Showroom in Croxley Business Park, Watford, Humberstone revealed Nissan's plans for the Ariya, which is available to pre-order, with the first deliveries beginning in summer.
In terms of volumes UK dealers will see in 2022, he said it had a "clear number in mind" but expects to "easily" exceed that number. He said: "The Ariya is all about technology and electrification, so it's really our flagship.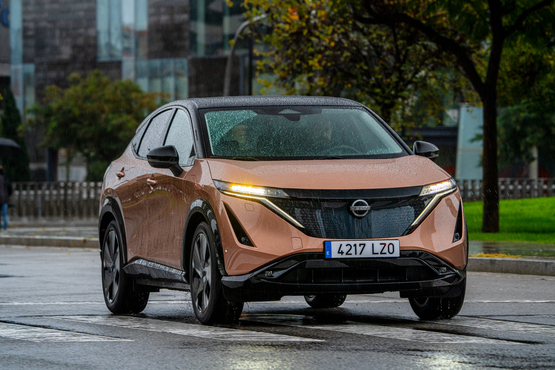 "We're positioning the car strategically; the residual value (RV) is exceptional – we have over 60% RV, so we're very optimistic. But it's not a model we're going to push and it's not a model that we're going to be looking for market share.
"Every Ariya that we sell is conquest, and it's incremental volume for us. But it's not a car that we want to start trying to gain market share on."
Humberstone added that Nissan would be "very careful" which channels it sells the Ariya to protect the RV.
The current lead times for an Ariya customer, depending on specification and launch dates, is five to seven months, said Humberstone.
"We have a very strong order bank, we've had more than 400, nearly 500 orders before we went online. We went online this week and we're very comfortable."
In an AM manufacturer profile feature, Humberstone said that Nissan dealers will be in a good place to capitalise on the UK car market's electrification, but they will need to raise their game.
Nissan Live Showroom
Nissan has said it is looking at launching all its future products via its live new showroom facility.
Nissan's Live Showroom is a concept that allows customers to take a real-time tour of their preferred model via one-way video call with a product expert, where customers can have their questions answered without visiting a dealership.
At the end of the tour, leads are passed on to Nissan's dealer network, where the dealership team located nearest to the potential purchaser will be able to assist with test drive requests and providing finance information.
The facility was launched last year to introduce the new Qashqai - the Live Showroom has been extended to include the Leaf hatchback and the Ariya.
New vehicles and concept cars will be introduced into the showroom as they become available, giving customers the first chance to view before they arrive in dealerships.
Nissan said the live showroom has a key role to play as it continues its efforts to enhance the digital customer experience.
"The trajectory is positive and continues to be positive and is gaining more traction," said Humberstone.
"We've demonstrated that the live showroom is a live engagement and a unique concept. The more we've linked that and modified it on our own website, the more we've seen that momentum and interest in it. It's been very positive in terms of how it's growing.
"Going forward, for us it's another tool to deliver a seamless customer experience. We've seen customers contact us after they've ordered their vehicle and they're coming back here to get additional information about the car that they've got on order."
Last year, the Nissan GB-owned dealer group, West Way, launched a new online car retail website with artificial intelligence (AI) features.
In 2020, West Way Nissan said its shift to a digital aftersales process during the COVID-19 lockdown period could save it 10,000 hours a year of "productive time".
'Always a physical element'
But Humberstone said that ,despite the digitisation process, "there's always a physical element and dealers are there to provide that".
"The live showroom has been very successful and it's a tool that I think will only be expanded going forward."
The live showroom is open for 12 hours a day from 11am to 11pm seven days a week.
Humberstone added: "We're ahead of our BP and we're very optimistic on all our KPIs and doing exceptionally well on financials.
"We've had some exchange rate advantages as well, as we have Sunderland on our doorstep. We've had a very positive and strong year.
"We're launching five new products this year - we have a very clear strategy for the short and long term. 2030 is all about electrification, we've got huge investment in the UK, over £1bn invested in our EV 360 project.
"We're fully expecting to see a ramp up through 2022 and hopefully get to a degree of some normality again towards Q3 and Q4 in terms of volume supply - so we're very optimistic. We were very bullish on 2022."