Volkswagen has been recognised as the UK's best automotive brand in YouGov's Automotive & Mobility Ranking 2022.
The ranking uses data from YouGov's BrandIndex platform, which measures consumer perceptions towards brands daily.
Volkswagen recorded an Index Score of 21.7, ahead of Ford (21.5) and Mercedes-Benz (21.5). Other brands also featured in the top 10 include Audi (19.7), Toyota (19.2), Volvo (18.5), Jaguar (17.8), BMW (17.6), Honda (15.4), and Porsche 14.5).
YouGov said the ranking examines the best performing automotive manufacturers according to their overall Index scores – an average of Impression, Value, Quality, Reputation, Satisfaction, and Recommendation scores - between February 1, 2021, and January 31, 2022.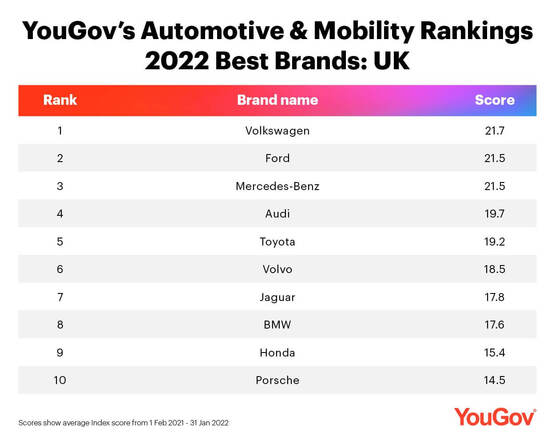 Mercedes-Benz was found to have the best overall brand health in the UK according to YouGov's 2021 Automotive Rankings.
Volkswagen Group chief executive Herbert Deiss warned that a shortage of components sourced from Ukraine could prove its biggest supply issue in 2022.
AM's editor Tim Rose's second review of the Volkswagen Arteon Shooting Brake reveals its two-faced nature: relaxation and thrills in one package.
Read the first review here.