New car sales across Europe were 52.3% down year-on-year in May as the easing of lockdown measures in certain regions delivered a slight improvement over April.
Registrations data published by the European Automobile Manufacturers' Association (ACEA) showed that the region had recovered from the depths of April's 76.3% decline and the National Franchised Dealers Association (NFDA) indicated that further improvement was on the cards after the June 1 re-opening of England's showrooms.
"It is interesting to see that new car registrations showed a slight improvement across Europe in May with a less severe decline than in April, as lockdown measures began to ease and dealers reopened," said NFDA director, Sue Robinson.
"By comparison, while about 80% of dealerships have now reopened in England and reported two positive trading weeks, it is important to note that a lot of sales were boosted by pent-up demand.
"We will continue to monitor the situation very closely to ensure our industry receives the support it needs going forward".
The number of new cars sold across the European Union fell from 1,217,259 units in May 2019 to 581,161 in May this year.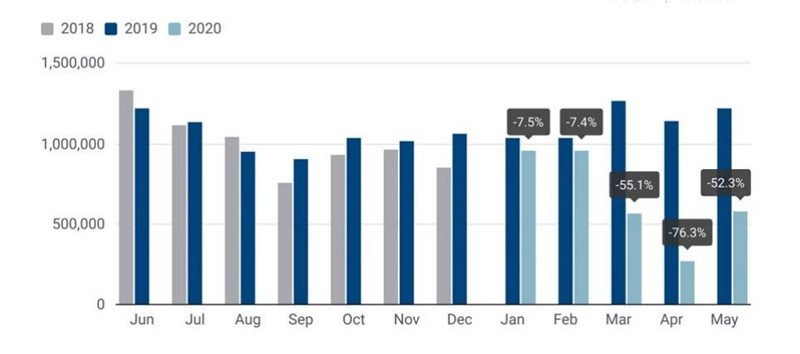 Each of the 27 EU markets showed a double-digit decline last month, although the decreases were less dramatic than in April.
Spain saw the biggest decline among the four major EU markets (-72.7%), while sales fell by roughly half in France (-50.3%), Italy (-49.6%) and Germany (-49.5%).
While dealerships in Germany in Italy were given the green light to reopen on April 20 and May 4 respectively, dealers in France and Spain started to gradually reopen later in May.
In the first five months of the year, EU demand for new passenger cars was down by 41.5%.
The Society of Motor Manufacturers and Traders (SMMT) reported earlier this month that the UK's new car market in May closed 89% down year-on-year at 20,247 registrations, 163,477 fewer than in May 2019.
Dealers in Scotland and Wales are still awaiting an official date when they can re-open their showrooms to deliver another boost to the UK's automotive retail sector, however.
AM reported yesterday (June 17) how car dealers across Scotland insist that there was scope for a COVID-19 lockdown exemption for car showrooms as they await news of "phase two" of the Scottish Government's retail re-opening plans.
Scottish first minister Nicola Sturgeon is expected to announce detail of her "phase two" plan, which includes the re-opening of many retail outlets, in an address today.
Arnold Clark chief executive, Eddie Hawthorne, told AM: "I think the Scottish Government realise that there was an exemption to be had there.
"The truth is that we have plenty of space in which to social distance, we don't get the footfall of other retail sector businesses and half our business – the aftersales element – has already been re-opened anyway, so all our health and safety measures have already been implemented."