The average UK car retailer delivered a £28,000 year-on-year swing to profitability in August to ensure "a profitable 2020 seems very much in reach for the average retailer", according to ASE.
In his monthly car retail sector profitability report for the month prior to last month's crucial September number plate change period, ASE chairman Mike Jones said that the average car retailer delivered a profit of £14,000.
According to ASE's market data, the result built on a July result which saw the average UK car dealer realise a profit of £52,000 during July, although he conceded at the time that this bumper result could have resulted from a data "submission catch-up"
Jones was encouraged by August's strong showing, however. He said: "This represents a £28,000 swing on the prior year result, with August traditionally producing a significant loss, being impacted by holidays and the impending plate-change month of September.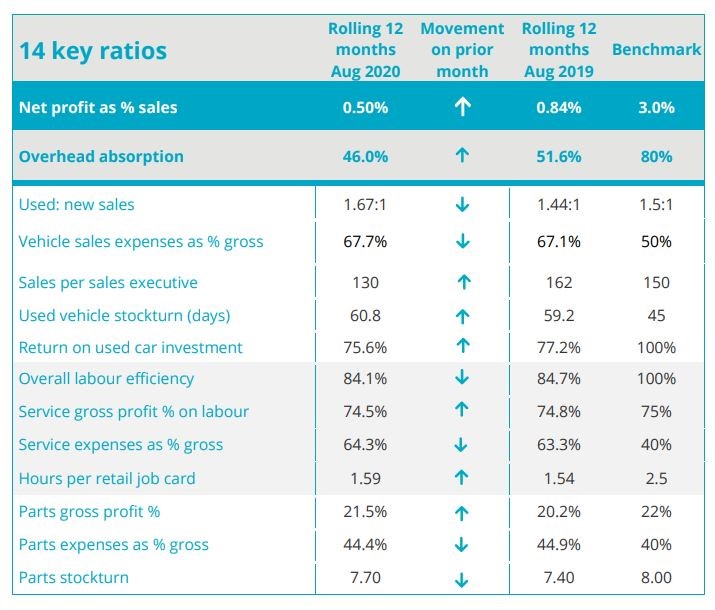 "The £14,000 profit generated in what is traditionally a loss-making month saw the average retailer Return on Sales continue its recovery to 0.5%.
"Whilst Q4 trading is uncertain, a profitable 2020 seems very much in reach for the average retailer which is a very creditable performance given the disruption wrought by the COVID crisis."
Yesterday the Society of Motor Manufacturers and Traders (SMMT) reported that the UK's new car sales volumes slumped to their lowest September number plate change month this century as the automotive COVID-19 recovery stalled to a 4.4% year-on-year decline.
However, retail sales declined by just 1.1% year-on-year and some car brands delivered record results.
Many market analysts also indicated that the shortfall could be accounted for by a reduction in pre-registrations as OEMs continue to struggle with supply issues following COVID-19 lockdowns while rebalancing their product mix in the wake of ongoing EU emissions legislation changes.
Jones indicated that many car retailers were continuing to ride a wave of positivity in the used car sector.
He said: "Used car performance has been the real shining star since the lockdown was lifted and this continued during the month of August.
"Used car return on investment continued to climb and is now within touching distance of the prior year result, even despite retailers being practically closed for two months."
Jones said that the market outlook for Q4 2020 looked "slightly more uncertain" than Q3's period of resurgence.
He indicated that local COVID-19 lockdowns, in particular, could impact trading performance in the areas they have been implemented.