Consumer car finance remained up 7% by volume in the year to the end of October despite an 11% decline in October, according to Finance and Leasing Association (FLA) data.
The FLA reported that the consumer car finance market had seen a double-digit decline in volumes – to 166,077 – in a month which saw the Society of Manufacturers and Traders (SMMT) report a registration decline of 24.6%.
But the sector's finance agreements resulted in a decline of just 1% by value, totalling £2.97 billion.
The result leaves the sector's new business up 3% by volume, to 2.05m, and 9% by value, to £35.4bn, in the 10 months to October 2021.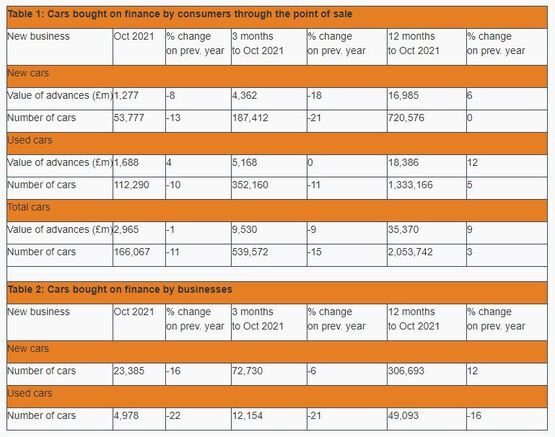 Geraldine Kilkelly, director of research and chief economist at the FLA, suggested that the latest consumer car finance market would have shown a stronger recovery had its not been for the "ongoing supply shortages of new and used cars".
Last month AM reported on the FLA's Sepytember market data, which showed business volumes down by over a fifth in September.
Kilkelly said: "The average advance to consumers for used car purchases reached £15,000 in October as high demand combined with supply pressures saw used car prices grow by almost 23% during the same period.
"The car finance market was quick to recover as the economy opened up, with the value of annual new business in the consumer used car finance market in October only 1% below the pre-pandemic peak.
"However, the pace of recovery has been hampered by supply shortages which are likely to persist into 2022 as countries across the world contend with new waves and variants of COVID-19."
The FLA's data showed that consumer new car finance market reported a fall in new business of 8% by value and 13% by volume in October, compared with the same month in 2020.
In the 10 months to October 2021, new business volumes in this market were 4% higher than in the same period in 2020.
The percentage of private new car sales financed by FLA members in the twelve months to October 2021 was 93%, a similar level to the same period in 2020.