A more affordable new version of the Polestar 2 is set to broaden the appeal of the performance electric vehicle (EV), but its £39,900 start price falls short of plug-in car grant (PiCG) eligibility.
The Geely-owned performance EV brand's move to create three new derivatives of the model comes just weeks after UK chief executive, Jon Goodman, spoke out about Government's sudden changes to the PiCG to lower the threshold for eligibility from £50,000 to £35,000 and lower the value of the incentive from £3,000 to £2,500.
Speaking at the recent Society of Motor Manufacturers and Traders (SMMT) SMMT Electrified conference, Goodman said "we know the price point for our cars and we're going to stick to it".
The brand revealed today (April 13) that it would launch three new variants of the Polestar 2, with UK pricing now ranging from £39,900 to £45,900.
The new derivatives are sure to broaden the audience for the Polestar 2 after April 12's reopening of car showrooms in England allowed the brand's Endeavour Automotive and Lookers-run Polestar Space facilities to open in London's Westfield shopping centre and the Trafford Centre, Manchester.
Customers for the new derivatives will be able to choose from a variety of (Plus, Pilot and Performance) options packs when they buy their car via the brand's online-only retail channels.
Polestar chief executive, Thomas Ingenlath, said: "What we have successfully managed with the new versions is to avoid stripping the lower-priced models of their character and premium feeling. Even the most affordable Polestar 2, with no optional equipment, has great visual consistency and high level of standard equipment."
Speaking at the SMMT Electrified event, Goodman said that Polestar would not be realigning its pricing in order to follow Government's changing incentive policies.
Brands including Nissan (Leaf), Citroen (e-C4), Vauxhall (Mokka e) and Hyundai (Kona Electric) were among those that restructured their pricing policies to bring their ranges wholly into PiCG eligibility in recent weeks.
But Goodman said: "From our perspective we're looking at a new brand with high demand.
"I think it's a very dangerous game to play to reduce margins to get to the (PiCG) threshold. What if that threshold changes again?
"We know the price point for our cars and we're going to stick to it."
He added "Government policy has to allow the industry to plan. We're already on a short timescale to get to 2030."
In its statement about the new Polestar 2 line-up, the brand said today that three powertrains are now available, with potential zero-emission range of 279 to 335 miles.
The existing 300 kW (408PS) dual motor setup with a large 78 kWh battery pack is joined by two front-mounted single motor variants available either with the same long-range battery and a 170 kW motor, or a smaller, standard-range battery (64 kWh) and a 165 kW motor.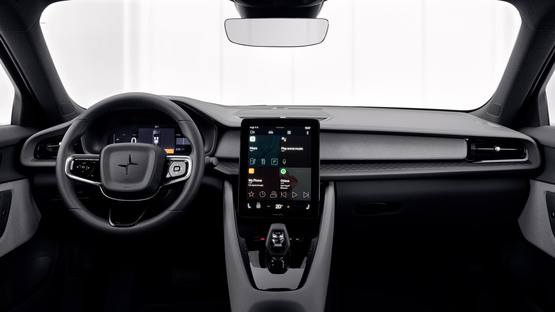 Android Automotive OS-powered infotainment system, 11-inch centre display and 12.3-inch driver display would remain as standard on all models.
Integrated into the new Polestar app with other vehicle functionality controls is the new Polestar Digital Key, which is also included as standard, it added, as is Over-the-Air updatability which allows Polestar to release software updates to owners remotely on a regular basis.
The new Polestar app and Polestar Digital Key begin rolling out to all Polestar 2 owners from May 2021.
Earlier this month Polestar outlined its goal to build a car that is truly carbon neutral by the end of the decade as part of the Polestar 0 project.
The project will aim to eliminate emissions generated during production and in use.
The new goal follows the publication of life cycle emissions data from electric cars from the manufacturer last year. Polestar found that its Polestar 2 model would need to travel almost 50,000 miles to claw back the carbon deficit created during production over an equivalent petrol SUV.
At the time, the Swedish car maker said that it had taken the step to publish the data as part of a bid to be "the most transparent in the automotive industry" and in doing so asserted that "'going green' isn't quite as simple as just buying an electric car."