Vertu Motors has appointed Steve Rowe as its new group sales director as it recruits 50 new head office employees to improve online sales and customer relationships.
The AM100 PLC said that former finance and insurance director Rowe will assume responsibility for revamping the car buying process to make it "more customer centric, flexible and friendly".
His appointment comes at a time that sees Vertu expanding its support teams and creating up to 50 new jobs at its Gateshead head office.
Among the new recruits are a centralised retention and prospecting team, focusing on looking after the current customer base, and specialist partners offering a concierge service that will guide customers through the online buying process.
Rowe said: "As a group, we have to ensure that we cater for all customers and that we have excellent customer satisfaction and feedback.
"We also have to ensure we maintain and improve upon our high standards, accommodating all customers who are using different ways to purchase vehicles. We must be equipped to satisfy this.
"My goal is to make the buying process, whether in a dealership or online, or a mix of both, as enjoyable and comfortable for the customer as possible."
Commenting on the creation of Vertu's new retention, prospecting and concierge teams, Rowe added: "These departments are critical in supporting the dealer network and our customers. Looking after our customer base is my number one priority and delivering the highest level of service to these customers is vital.
"We will also launch a concierge service, which will work with the customer through the whole process, giving them a named person to support their journey.
"Sales success and customer satisfaction go hand-in-hand, and offering a car buying experience that fits with customers' needs is essential in a competitive market."
Vertu Motors chief executive Robert Forrester said: "Steve is the ideal person to take on this new role. His years of experience, forward-thinking and customer focus will be invaluable as we revamp the car buying experience and continue to lead the field in innovation and customer service."
Vertu CEO Forrester will appear on ITV's Undercover Big Boss tomorrow night (August 12) as he goes undercover to gain insight into life on the showroom and workshop floor.
Last month AM gave readers an early look at the trailer for the series, revealing an insight into his disguise and some insight into his experiences.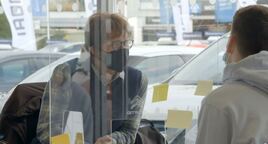 The ITV fly-on-the-wall series is often a catalyst for positive change in businesses as bosses gain insight on what it is like to work in different roles.
Earlier this month Forrester took to Twitter to share one recent improvement made to employees' terms at Vertu Motors.
He said the business' maternity pay would be ramped-up to 90% of average earnings for six months – the same as Marks and Spencers.
Forrester said that the move was "part of our strategy for a better balance of men and women in the workforce".