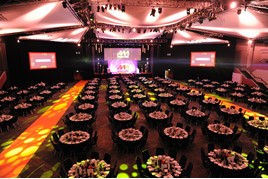 The 2021 AM Awards entries have been pored over ready for the judging panel to gather virtually on Monday for their debate and vote.
Table and AM Awards ticket sales have now started for the great motor industry networking event, being held on September 8 at the usual venue, Birmingham's ICC.
Senior executives from AM100 retail groups and other franchised dealers will be at Birmingham's International Convention Centre on the night, along with major industry suppliers such as Auto Trader, Car Care Plan, Keyloop and Premia Solutions, to hear the 2021 AM Awards winners revealed and learn what they've done to stand out from their peers.
This year's panel of judges comprises:
Stephen Briers, editor-in-chief of AM, Fleet News and Smart Transport
Julia Muir, founder, Automotive 30% Club and chief executive of Gaia Innovation
Steve Nash, chief executive, Institute of the Motor Industry
Sue Robinson, chief executive, National Franchised Dealers Association
Tim Rose, editor of AM
Professor Jim Saker, director of the Centre for Automotive Management, Loughborough University Business School
Tom Sharpe, news and features editor of AM
Steve Young, managing director, ICDP

Retailer categories have again been audited by our AM Awards audit partner, the motor retail team at BDO, led by Malcolm Thixton and Steve Le Bas.
And AM Awards judges spend several days studying the entries before coming together for the robust debate and vote, which is overseen by independent chairman Christopher Macgowan OBE.
"Motor retailers are so keen to get back to business networking after the lockdowns, and what better than at an evening which celebrates the successful businesses, great leadership, resilience and a sense of community spirit within our industry," said AM editor Tim Rose.
"I hope to see you there."
Remind yourself about who picked up the trophies in the 2020 AM Awards here.