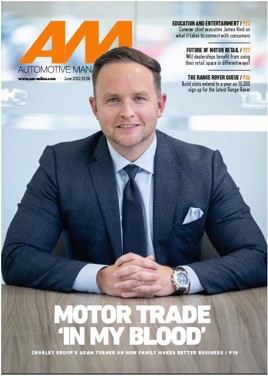 The June issue of AM magazine is here in digital form, free to read, full of insights that will get dealers thinking about their strategy for the future.
A spotlight section on The Future of Motor Retail explores some prospective new revenue streams as higher volume of electric car sales begins to impact aftersales revenues and drives dealers to optimise their cost base.
We reveal the problems in store for dealers caused by carmakers' switching specifications or deleting equipment to continue new car supply while they battle the shortage of semiconductors.
Adam Turner, the second generation boss of family-run AM100 dealer Chorley Group, shares his views on how a family-led culture helps drive dealership staff to give their best.
Carwow's chief executive James Hind outlines why the car marketplace changed its business model to help motor retailers access more used car stock.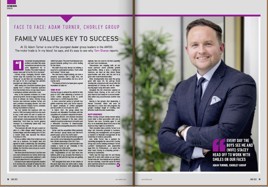 Our poll reveals widespread industry sentiment that, despite technology such as video, sales success is still dependent on face-to-face appointments.
And in a special section, Top Tips To Running A Profitable Dealership, experts share their advice on common topics and issues.
Editor's Letter
We're only a little way into this decade which seems intent on going down in history as 'the troublesome twenties'. But as we all navigate the ongoing challenges, many stemming from pandemic- or Russia-forced disruptions, we mustn't lose forget the importance on another T-word: trust.
Trust may not be a priority with the UK's leadership at presence but in your individual businesses and communities it must remain critical. There's a saying "Trust is a fragile thing – hard to earn, easy to lose" and nowhere is it more evident than in transactions where consumers are committing thousands of pounds while simultaneously being assailed by rising costs and wavering economic confidence.
Our news insight on p6 reveals the trouble that the motor retail industry may be storing up for itself as carmakers battle to continue new vehicle supplies amidst component shortages.
We reveal that one in three car buyers are renegotiating because the car they've ordered no longer meets the original specification.
By the mid-2020s, in the used car market – often where trust is hardest earned – dealers and consumers may lack 100% confidence whether a car they're looking at conforms to the published specification.
Clear and open communication will help maintain the trust. But this is tomorrow's problem that needs tackling by OEMs today.
Otherwise trust will disappear.