Used car supermarket group Big Motoring World has underlined its "big" UK-wide expansion plan with the launch of a new brand identity and website.
The Kent-based retail group has revealed a new "BIG on what matters to you" mantra alongside a graphic makeover set to feature on its long-standing car retail sites in West Malling, Blue Bell Hill, Enfield and its recently acquired operations in Peterborough Werrington and Peterborough Fengate.
The new look has been delivered in partnership with creative agency, The Ninety Niners, and is being rolled out as the business actively seeks-out premises across major metropolitan hubs including London, Birmingham, Manchester, Glasgow, Derby and Leeds to drive its continued growth.
Marketing Director, Darren Miller, said: "The rebrand marks an important step in our evolution as a business.
"Consumer research commissioned by AutoTrader on our behalf showed brand awareness increased greatly among in-market consumers due to effective marketing within the customer journey.
"What we discovered was that when compared with many of the largest automotive retailers in the UK, Big Motoring World regularly ranked first when it came to the range of cars on offer, perceptions around fair prices and the overall customer experience.
"Our new corporate identity and website really highlights our customer-centric approach under a clear banner that we're big on the things that matter to car buyers, which include everything from choice, value and quality to convenience, service and trust.
"As we seek to expand, our new brand identity, website and brand manifesto will be key in clearly communicating our value proposition to consumers".
Big Motoring World started its ambitious growth plan last year with the acquisition of SW Car Supermarket businesses in Peterborough, which is already the home of its 10-acre car preparation centre.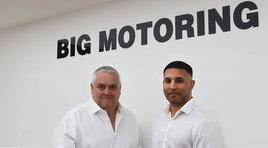 As part of the move, SW's chief executive, Anton Khan, joined Big Motoring World's executive leadership team as an investor and chief operating officer.
Khan has also been lined up to take on the group's CEO role when Waddell becomes chairman after more than 35 years in the industry.
Big Motoring World's multi-million pound rebuild of the Peterborough Fengate dealership, located on Padholme Road East, is expected to be completed this Spring.
The Werrington site opened its doors to customers, under the Big Motoring World banner, back in November.
In 2020, Big Motoring World sold 22,000 cars and operated on a click-and-collect basis during periods of full local and national lockdowns, achieving a turnover of £305m and recorded EDITDA earnings for the year of £11.3m in 2020.
Business founder Waddell is also half of a two man team behind Carzam, alongside former Cox Automotive International president John Bailey.
In November AM reported that Carzam had raised £112m in its first external fundraising round design to help propel the online car retail business into its "next chapter".
The Cazoo and cinch rival launched just over a year ago, expects its first-year revenues to total around £150 million on the back of 13,500 used car sales.