Glyn Hopkin has invested over £1 million in a new flagship retail store which incorporates virtual reality (VR) to handle sales for FCA Group brands Fiat, Abarth, Jeep and Alfa Romeo under one roof.
The 300 square metre new format of retail facility, on London Road in the AM100 group's home town of Romford, Essex, makes it possible to house all four of the car manufacturer's brands under one roof with the help of virtual reality (VR) technology.
Glyn Hopkin's latest dealership opening comes as part of a recent growth drive which has included the opening of the group's first Kia franchise, in Romford, the addition of three further MG Motor UK franchises in St Albans, Cambridge and Milton Keynes and a new Mitsubishi Motors in the UK dealership in Chelmsford.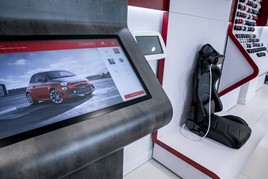 The technology at its new FCA Group facility in Romford showcases the entire FCA range via the simulated technology with physical demonstrators also on hand to ensure that customers can experience their product of choice.
Thanks to VR, customers walk around of their exact specification of car, and even jump in the driver's seat to view a full range of colour and trim swatches from inside their virtual car.
Lee Titchner, FCA UK network development director, said, "This is the first time that one of our retailers has combined all of the FCA brands under one roof with this new showroom concept and visual identity.
"With a wide variety of products and a need to make sure that they are perfectly suited to their owner, Glyn Hopkin have used an innovative VR approach to meet customers growing expectations".
Fraser Cohen, managing director of Glyn Hopkin, said: "Our new FCA retail concept store in Romford is the first of its kind in the UK, and follows the introduction of this concept in other key locations across Europe.
"We have represented the FCA brands in Romford since 2000 and it's great to see their evolution over our 20-year partnership.
"It's an exciting new chapter and we look forward to welcoming our current and future customers to our new, cutting-edge store."
Many car manufacturers have experimented with VR technology in their dealerships, with Audi among the early pioneers.
DS Automobiles managing director Alain Descat told AM during the recent launch of the brand's DS 7 and DS 3 E-TENSE electrified SUVs that a change to its corporate identity had leveraged VR technology to give prospective franchisees a lower entry-level investment to join the PSA Group-owned brand's network.
In the luxury and supercar sector, meanwhile, Zerolight has paired OEMs' online car configurators with VR to deliver an immersive showroom experience where demonstrator cars simply aren't cost effective – working with the likes of Lamborghini and Pagani.