North-east based dealer Sherwoods Motor Group has signed up its bodyshop to the Fix Auto repair network.
Managing director SImon MacConachie hopes the Sherwoods Accident Repair Centre, which currently repairs up to 30 vehicles a week, will double its repair throughput as Fix Auto Washington.
Recent investment has allowed the installation of two new spraybooths, one of which can accommodate large vans and motorhomes, plus additional work bays, ramps and equipment.
"We have a truly magnificent bodyshop that has, in our opinion, never quite fulfilled its true potential," said MacConachie (pictured centre, below).
"The team we have in place are highly skilled and excellent at what they do but we recognised that if the centre is to reach its true potential, we needed to significantly invest in the facilities and equipment which is exactly what we have done.
"Car sales is our core specialism and while we've managed to run the repair operation well, we also realise we need support and guidance from industry experts if we are to meet our own ambitions which us why we have joined Fix Auto UK to help elevate that area of our business."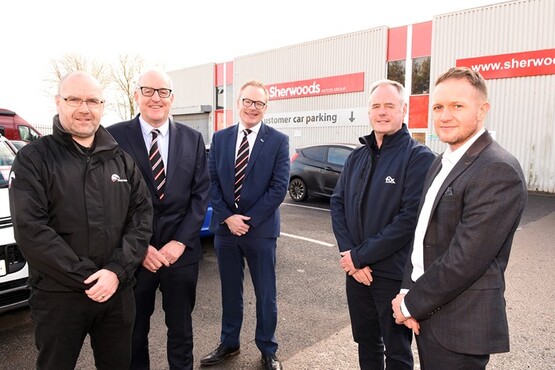 The repair centre already holds official vehicle manufacturer approvals for the entire Stallantis Group encompassing Abarth, Alfa Romeo, Chrysler, Citroen, Dodge, DS, Fiat, Jeep, Lancia, Maserati, Peugeot, Ram and Vauxhall along with Suzuki and Isuzu.
As an organisation, Sherwoods Motor Group employs 160 people across its car sales centres in Gateshead, Durham, Sunderland and Washington and has a turnover in excess of £75 million.
Chris Elvidge, Sherwoods Motor Group chairman (pictured, second left), added: "Having previously worked very successfully with Fix Auto UK and known Ian Pugh for many years, it is great to have them as a partner to help us take our repair operation to greater successes."
This latest development comes two weeks after Sherwoods announced its acquisition of Town Centre Automobiles in Sunderland.
Ian Pugh, managing director of Fix Auto UK, said: "What a way to start 2022. Here we have a 30,000 sq ft repair centre that has been significantly invested in over recent times and owners who are extremely ambitious.
"Operationally, I am confident that by working together we can help to fulfil those ambitions."