Electric vehicles (EV) were the most discussed Twitter topic among automotive influencers during Q4 of 2019, according to research conducted by GlobalData.
The data and analytics company found that the period had delivered more than 100% quarter-on-quarter (QOQ) growth in the volume of posts on the social media platform, with Tesla's Cybertruck unveiling creating a peak in online activity.
Animesh Kumar, GlobalData's director of automotive consulting, said: "With electrification being a key agenda in several countries and among OEMs and with new product developments, announcements and model launches, it is not surprising that EVs emerged as the most discussed topic on Twitter."
GlobalData's findings come as carwow revealed that February saw a 243% increase in Electric Vehicle (EV) configurations undertaken by visitors to the site looking for their next car.
The research conducted by GlobalData drew on data from its Vehicle Manufacturers Influencer Platform, which tracks the industry experts from automotive sector and their discussions around the emerging trends, insights and overviews, new fields of innovation and technology.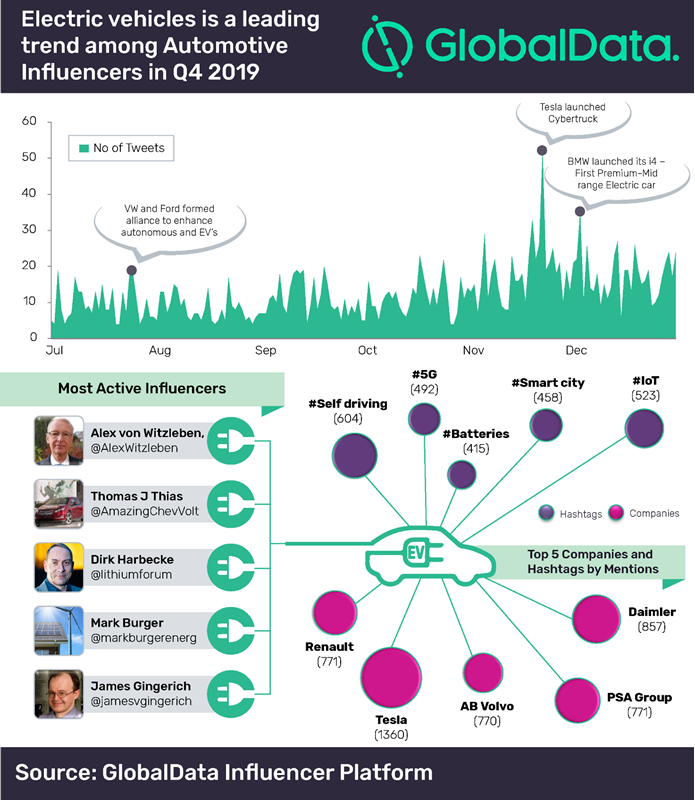 It revealed that 'Cybertruck' as the top conversation driver among EV topics in Q4 2019, with other key mentions for Daimler, Renault, PSA Group and Volvo.
Alex von Witzleben, Thomas J Thias and Dirk Harbecke were the top contributors on the topic of EVs generally, based on mentions count.
Their discussions revealed #Selfdriving, #IoT, #5G, #Smartcity and #Batteries as the top mentioned hashtags, driven by emerging technologies leveraged by companies in their latest range of EVs.
Speaking in light of industry developments at the start of 2020, which included the cancellation of the Geneva Motor Show 2020 due to coronavirus, Kumar said that it would not be a surprise if the topic of EVs lose GlobalData's Twitter activity top spot, however.
He said: "COVID-19 is disrupting the supply chain across markets and the top theme of discussion in Q1 2020 should be 'automotive supply chain'.
"Since China is a major supplier of electric vehicle components and is on the forefront of battery technology, EVs will continue to be discussed even during this phase."
Interest in EVs is still on the increase on carwow.
The online marketing provider has reported that the Nissan Leaf, Renault Zoe and Volkswagen e-Golf are now the most commonly-configured and converted sales on the platform.
Benjamin Hunt, motoring trade analyst for carwow, backed the Society of Motor Manufactures and Traders (SMMT) suggestion that government should remove VAT from the sale of EVs in an attempt to capitalise on the levels of consumer interest.
He said: "Whilst manufacturers are making great strides to escalate the growth in the AFV market – more than 23 new battery electric and 10 plug-in hybrid electric cars will be launched in the UK this year – affordability, reliability and a solid charging infrastructure will be key to converting consumer appetite into sales.
"Although awareness is growing all the time of the financial savings to be made by switching to hybrid, plug-in hybrid or pure electric cars, more needs to be done to convince consumers to take the EV leap.
"The removal of VAT from AFVs, as recommended by the SMMT, would go a long way to achieving this, coupled with the continuation of the plug-in grant and exemption from VED and insurance premium tax."