Stellantis chief executive Carlos Tavares has said that the 14-brand OEM giant is targeting 'industry champion' status with its new emissions-cutting Dare Forwards 2030 strategy.
The Alfa Romeo, Citroën, DS Automobiles, Fiat, Jeep, Vauxhall and Peugeot car maker, which also operates the Free2move and Leasys car leasing businesses, aims to reach carbon net zero emissions by 2038, with a 50% reduction by 2030.
And in a presentation this week, Tavares said that it would reach its goal with the help of a range of more than 75 battery electric vehicles (BEVs) by the end of the decade.
Dare Forward 2030 targeting 100% electric sales in Europe and 50% in the United States – equating to annual BEV sales of five million vehicles – by 2030.
Tavares said: "Dare Forward 2030 inspires us to become so much more than we've ever been.
"We are expanding our vision, breaking the limits and embracing a new mindset, one that seeks to transform all facets of mobility for the betterment of our families, communities and the societies in which we operate."
Stellantis this week vowed to send a €1 million donation to help victims of the Russian invasion of the Ukraine.
Its pledge came a week after it reported that it had exceeded profitability targets in 2021, despite a 20% decline in new vehicle production triggered by the shortage of semiconductor microchips.
Stellantis' pro forma revenues rose 14% to €152bn, while net profit nearly tripled to €13.4bn, resulting in an adjusted operating margin well above its 10% goal for the year at 11.8%.
In December Stellantis revealed plans to accelerate its turnover from software-enabled services and subscriptions to €4bn (£3.4bn) in 2026 and €20bn (£17bn) in 2030 as its transitions to a new role as a "sustainable mobility tech company".
The news came seven months after the OEM told its franchised car retailers they would be issued with two-year termination notices as part of a reorganisation of its distribution networks.
Stellantis' plan to accelerate the scale of its EV offering comes at a time of limited component supplies and disruption from Ukraine conflict, with doubt already cast over the future of its light commercial vehicle (LCV) plant in the region.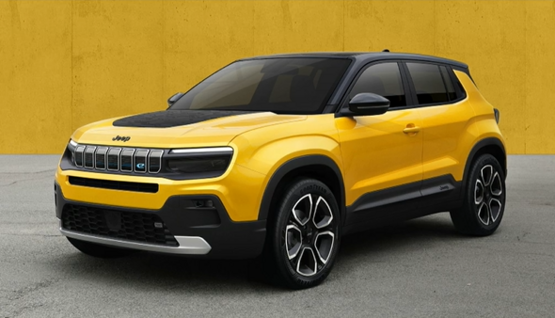 Part of Jeep's first-ever fully electric SUV, however. Expected to line up alongside current EV models including a full range of van-based EV MPVs the Peugeot e-208, e-2008, Vauxhall Corsa e and DS 3 E Tense in UK showrooms, the new electrified Jeep will launch in early 2023, Tavares said.
Jeep first electrified model, the Grand Cherokee plug-in hybrid (PHEV) was unveiled last month.
"Our journey is fueled by a focus on innovation and engineering excellence that will put the latest technology into all our vehicles – from the most affordable to the high-performance and luxury – all offered through the extensive product portfolio of our incredible and unique house of brands," Tavares said.
"The customer is at the heart of everything we do. We aim to be number one in customer satisfaction for our products and services in every market.
"We will pay exceptional attention to the full end-to-end experience, working to eliminate any friction throughout the value chain."
He added: "We are proud of our rich history. It shows our grit, perseverance, and agility. To this we add the mindset of entrepreneurs to deliver Dare Forward 2030."