The key number plate change month of March will be pivotal in car retailers' efforts to achieve profitability in 2020, according to sector analyst ASE.
In his monthly report of the profitability of car retailers across the UK, ASE chairman Mike Jones said that a steady start to the year appeared to have continued during February and suggested that the sales and profit margins achieved this month would be vital.
In January, the average UK motor retailer made a profit of £9,000, according to ASE's data – matching the result from the prior year.
Jones said that the represents "a healthy start to the year" which had built on the optimism which had followed Prime Minister Boris Johnson's decisive general election win at the end of last year.
But he added: "The results from January are steady and early indications for February seem to mirror this with registrations slightly down but profit holding steady. March will be the key, however and this will all depend on the new car profitability, with some retailers already reporting that order banks are building slower than in prior years."
The Society of Manufacturers and Traders (SMMT) today (March 5) reported that new car registrations had declined by 2.9% last month, to 79,594, leaving the UK's new car market down 5.8% year-to-date at 228,873 (2019: 242,982).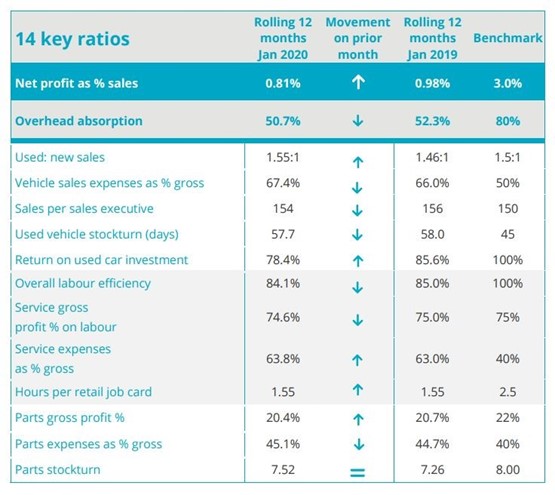 ASE's monthly sector performance data indicated that car retailers were still generating sales and profits from their used car operations.
The ratio of used to new car sales rose from 1.46:1 to 1.55:1 in the rolling 12 months to January 2020 as stockturn declined from 58 to 57.7 days, on average.
Jones added: "Overall used car gross profit earned in the month of January rose 6% on the prior year, reflecting both the focus on this area by retailers and the strength of the used car market at the start of the year."
Jones said that the used car return on investment statistic "continued to nudge higher" as ASE saw increased gross profits generated from a slightly lower investment in stock.
This comes despite recent market data from the sector's remarketing specialists and data providers which suggested used vehicle prices had continued to rise in 2020, making stock acquisition difficult for car retailers looking to retain a strong margin.
While used car performance appeared to be on a positive trajectory in ASE's monthly statistics, the performance KPIs for aftersales and parts operations appeared to indicate a slight decline in operating efficiency as operating expenses put profitability under pressure.