The Society of Motor Manufacturers and Traders (SMMT) has called for a Government-backed automotive sector restart package and "turbocharged" Brexit talks to kick-start the COVID-19 recovery.
A new report published by the automotive manufacturing industry body claims that one-in-six jobs in the sector are at risk of redundancy as a third of its workforce remains on furlough under Government's coronavirus job retention scheme (CRJS).
It has called for unfettered access to emergency funding, permanent short-time working, business rate holidays, VAT cuts and policies that would "boost consumer confidence and accelerate a sustainable restart for the market and manufacturing".
The SMMT has also re-stated the need for tariff-free trading with the EU, urging the Government to "turbocharge" its negotiations to avoid an estimated £40 billion in production losses by 2025.
Car retailers are keen to see Government support their part of the automotive sector with a scrappage scheme after The Telegraph newspaper reported that ministers were considering a grant of up to £6,000 to boost consumers' spending power.
Subsequent reports in the Financial Times suggested that such a scheme is unlikely to gain backing as Ministers favoured a solution which would directly target fiscal support at the UK manufacturing sector.
Speaking today (June 23) at the industry's annual Summit, SMMT chief executive Mike Hawes said: "UK Automotive is fundamentally strong. However, the prolonged shutdown has squeezed liquidity and the pressures are becoming more acute as expenditure resumes before invoices are paid.
"A third of our workforce remains furloughed, and we want those staff coming back to work, not into redundancy."
He added: "Government's intervention has been unprecedented. But the job isn't done yet. Just as we have seen in other countries, we need a package of support to restart; to build demand, volumes and growth, and keep the UK at the forefront of the global automotive industry to drive long-term investment, innovation and economic growth.
"Support delivered now is an investment in the future of one of Britain's most valuable assets…investment that we will repay many times over."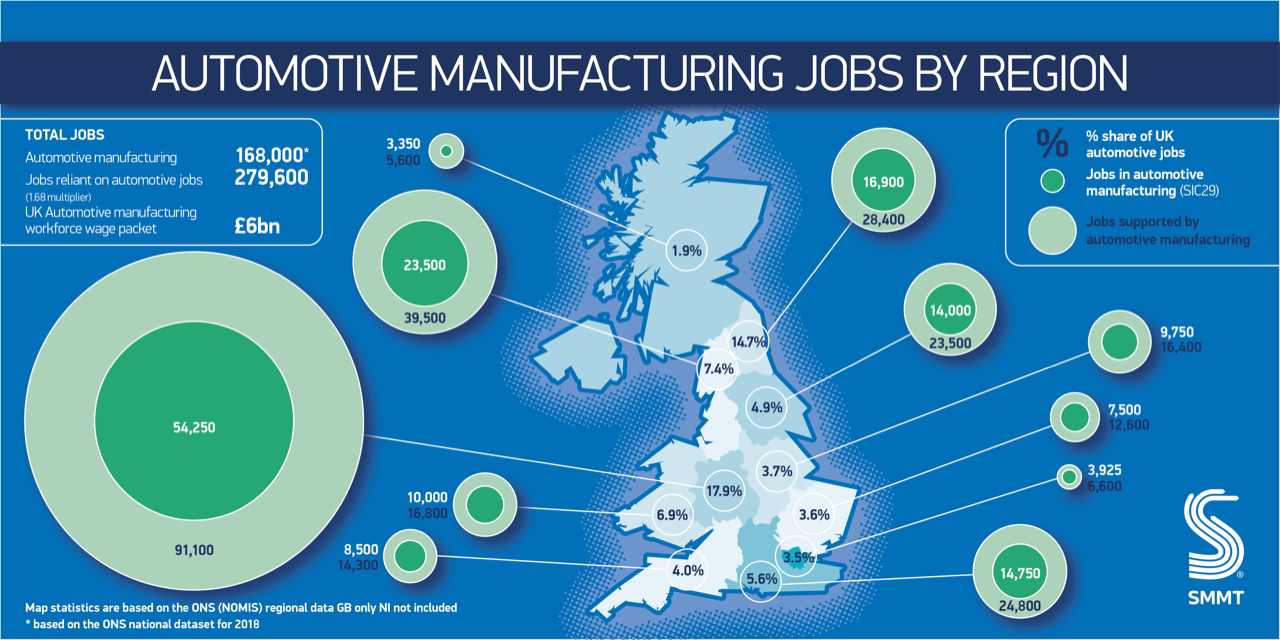 The UK's automotive manufacturing sector employs over 168,000 and supports 279,600 jobs in associated businesses, according to the SMMT.
But it claims that more than 6,000 UK automotive job cuts have been announced in June, a result of global lockdowns, closed markets and shuttered plants.
Showrooms in England, Northern Ireland and Wales are now re-opening and production lines restarting, but despite a strong re-start to showroom trading reduced demand and social distancing are slowing productivity, the SMMT said.
The impact of the COVID-19 pandemic on manufacturing is expected to cut annual car and light commercial vehicle production volumes by a third to just 920,000 units this year, it said.
However, an ambitious, tariff-free FTA could facilitate a full recovery in around five years, with output reaching pre-crisis levels of 1.35 million units by 2025.
The SMMT said that a 'no deal' scenario would "severely damage these prospects" and could see volumes falling below 850,000 by 2025 – the lowest level since 1953 – leading to a £40bn loss of revenues, on top of the £33.5bn cost of COVID-19 production losses over the period.
Hawes said: "COVID has consumed every inch of capability and capacity and the industry has not the resource, the time nor the clarity to prepare for a further shock of a hard Brexit.
"That's why we do need to 'turbo charge' the negotiations to secure a comprehensive Free Trade Agreement with the EU that maintains tariff and quota free trade… With such a deal, a strong recovery is possible, we can safeguard the industry and our reputation as an attractive destination for foreign investment and a major trade player."
Norway-style EV push
Ford of Britain chairman, Graham Hoare, called for electric vehicles (EV) to gain particular backing in any automotive sector support package following in from the COVID-19 crisis.
The brand recently launched its first full-EV, the Mustang Mach-E, andthe new Kuga plug-in hybrid and is keen to see alternative fuel vehicles (AFV) gain traction to boost the UK Government's target of only allowing the sale of zero emissions and OEMs' chances of meeting stringent new emissions targets.
Hoare said: "A successful future for the auto industry is dependent on achieving our longer-term objective of a zero emissions future – that is definitely the path we are on at Ford.
"However, we should be under no illusion that reaching this goal will require an unparalleled level of commitment and cooperation by a range of different stakeholders – government departments, local authorities, the auto industry, energy providers, and customers.
"We need government to partner with us and have joint equity in formulating and delivering a comprehensive and consistent strategy that encompasses all stakeholders and that provides a path to the future – a path that also encompasses a range of technologies, including mild hybrids, hybrids and plug-in hybrids on the route to zero emissions."