There remains insufficient data to forecast a V- or U-shaped COVID-19 car retail recovery in Europe after sales declined by 57% across the region in May, according to Jato Dynamics.
Global analyst, Felipe Munoz, said that there were signs of recovery in registrations which more than doubled – from a 78% decline in April's results – month-on-month, but added that uncertainty about how many of May's registrations were outstanding sales made it difficult to predict the scale of the market's rebound.
The UK's registrations for May - as reported by the Society of Motor Manufacturers and Traders (SMMT) - placed it at the bottom of the registrations ranking as the coroanvirus lockdown stymied car retailers' sales activity.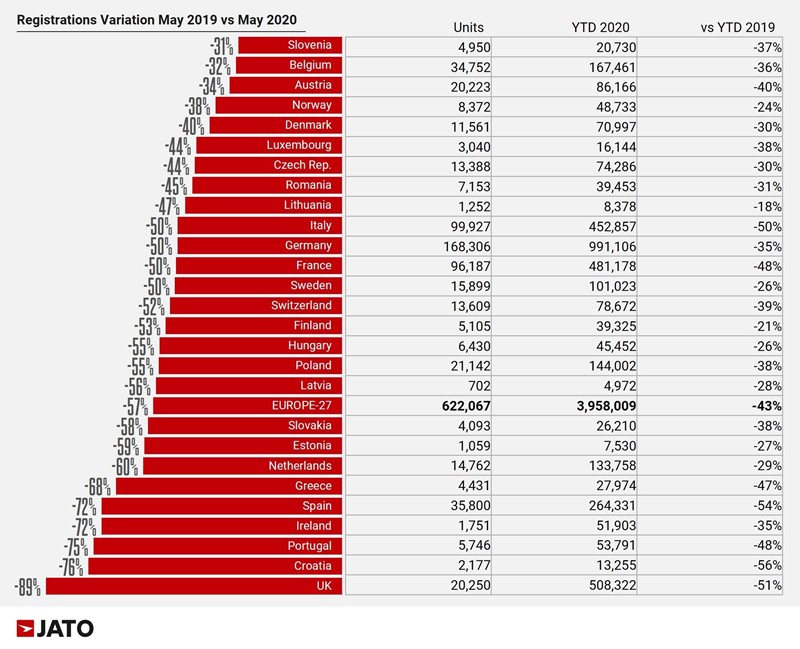 The total registrations generated by the 27 European nations analysed by Jato numbered 622,067, leaning the market down by 43% year-to-date, to 3.95 million units.
Munoz said: "Registrations volumes more than doubled in May, compared to the figures achieved in April.
"Despite the positive signs of recovery, a proportion of these registrations could correspond to sales that occurred prior to lockdown; therefore, we still do not have enough information to predict whether Europe will experience a V- or a U-shaped recovery."
Among the key positives drawn from May's European registrations data was the first rise in private registrations' gained traction, demonstrating that the decrease seen in April was mostly driven by lockdown and fewer consumers acquiring new cars, according to Jato.
Munoz said: "It is not unusual to see larger drops in business and fleet registrations than private registrations.
"Although, both have been severely affected by the outbreak, private registrations are often more profitable for OEMs, and are thus a more realistic indicator of the economic temperature."
EVs market's most resilient
In a key year for carmakers' drive to reduce the emission of their sold products to meet new EU regulations introduced in 2020/21 alternative fuel vehicle (AFV) registrations declined by 8% during May (from 103,400 to 95,300), as petrol-powered vehicles slumped by 62% and diesel by 59%.

AFVs' small decline resulted in a rise in European market share from 7.2% in May 2019 to 15.3% in May 2020, as year-to-date volumes rose to 600,500 units.
Growth was driven by plug-in hybrids (PHEV). Munoz stated: "The crisis has shown us that hybrid demand and growth fluctuates, while plug-in cars gain traction due to lower prices. Nevertheless, we suspect that mild-hybrids will soon boost hybrid sales."
The Volkswagen e-Golf electric vehicle (EV) - a model discontinued in VW's new Golf 8 model ine-up - was the "true driver of growth in May" for AFVs, according to Jato, despite the Renault Zoe leading the EV sales rankings.
Among the AFVs, the Ford Puma outsold the Toyota Yaris, and the Fiat 500 secured sixth position among hybrids – both mild hybrids.
The PHEV rankings, meanwhile, were led by the new Ford Kuga.
Renault Clio outsells VW Golf
The Renault Clio led the European ranking by models for a second time this year among the ICE-powered products.

Both the French hatchback and the Volkswagen Golf recorded double-digit declines, but Jato observed that the Clio's plentiful availability – compared to the newly-launched Golf 8 – had supported its success.
Jato claimed that Volkswagen retailers did not benefit from their latest generation Golf as the company had to "interrupt deliveries due to a software error in mid-May".
The Golf 8 accounted for 17% of the model's registrations during May.
As well as the Renault Clio, Peugeot also drove up the hatchhcbak sales rankings thanks to the launch of its new 208.
The new 208 ranked third with almost 11,000 registrations during May.
Last month, four-out-of-10 new cars registered were SUVs, with their volume decreased by 53% year-on-year to 250,000 units.
Jato reported that this segment was led by the Renault Captur, Volkswagen T-Roc, Dacia Duster, Volkswagen Tiguan and Peugeot 2008.
The worst performing segments were the MPVs, city-cars, luxury sedans, compact cars and executive sedans. In fact, the MPVs registrations fell so heavily that they were outsold by the Vans (LCV-derived), now more popular among European consumers.