Car manufacturing is said to be suffering from "long COVID", with new vehicle supply issues blamed for UK registrations total which remained adrift of pre-pandemic levels in Q2, 2021.
Society of Motor Manufacturer and Traders (SMMT) chief executive Mike Hawes said the knock-on effect of a global supply shortage of semiconductor microchips had continued to disrupt the supply of certain models and was "restricting the automotive recovery".
The SMMT said total registrations for Q2 2021 (up 39.2% at 909,973) had fallen short of industry expectations by around 9,000 units partly as the ongoing global semiconductor shortage acted as a limiting factor on supply.
But as 186,128 new cars registrations were delivered in June – up 28% year-on-year but down 16.4% on the month's 10-year average – the industry body reported strong customer demand and optimism ahead of the further lifting of COVID-19 restrictions.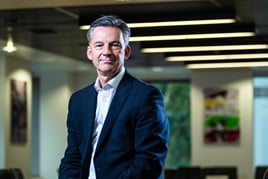 Hawes said: "With the final phases of the UK's vaccine rollout well underway and confidence increasing, the automotive sector is now battling against a 'long COVID' of vehicle supply challenges.
"The semiconductor shortages arising from COVID-constrained output globally are affecting vehicle production, disrupting supply on certain models and restricting the automotive recovery.
"However, rebuilding for the next decade is now well underway with investment in local battery production beginning and a raft of new electrified models in showrooms.
"With the end of domestic restrictions later this month looking more likely, business and consumer optimism should improve further, fuelling increased spending, especially as the industry looks towards September and advanced orders for the next plate change."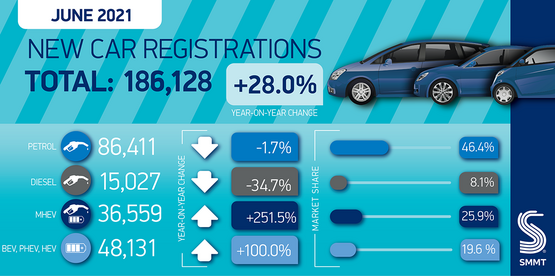 Sales trends
The SMMT reported that plug-in vehicles continued to increase market share in June, with electric vehicles (EVs) and plug-in hybrid vehicles (PHEVs) accounting for 17.2% of registrations (31,981 units).
EVs accounted for more than one-in-10 registrations (10.7%), it said, as PHEV uptake continued to accelerate following reductions to Government's plug-in car grant (PiCG).
A statement issued by the SMMT once again stated the need for Government to help drive the ongoing growth of EV sales ahead of its 2030 target of banning the sale of purely petrol and diesel powered new cars by 2030.
It stated: "While economic confidence continues to strengthen, with some independent forecasts for GDP growth reaching 8% in 2021, new registrations still remain adrift of pre-pandemic levels.
"Returning to the previous decade average of 2.3 million new car registrations per annum, and for that total to be electrically-driven, consumers need certainty about the future with long term government commitments to incentives, and confidence in the rollout of charging infrastructure nationwide."
While June's retail sales grew by 30.6% year-on-year fleet registrations grew by 47.8%.
The SMMT data showed that the mini segment had grown fastest of all after several months of weak performance, with superminis accounting for 34.1% of registrations, followed by lower medium (26.8%) and dual purpose (24.5%).
While the Tesla Model 3 EV was June's best-selling car in the UK – with 5,468 registrations – Vauxhall's Corsa is the UK's best-selling car year-to-date, followed by the Ford Fiesta and Volkswagen Golf.
> New car registration data - total market and by manufacturer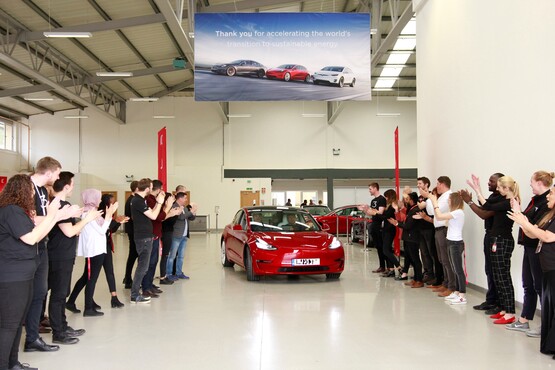 Industry comment
Commenting on the SMMT's latest new car registrations data, Ian Plummer, Auto Trader's commercial director, said: "Given this context June's new car sales results is a more than respectable performance, which has been helped by manufacturers focusing on supporting retail over less profitable channels.
"The level of demand for both new and used cars is exceptionally high. Visits to our marketplace in June increased 34% when compared to 2019, and according to our proxy data many retailers are reporting record used car sales performance, with Q2 2021 volumes increasing over 12% on 2019.
"It is worth bearing in mind that the performance we're seeing now is based on a significant number of orders which were taken before the semi-conductor shortage came into effect. It's likely therefore that the full impact will be more evident over the months to come."
Sue Robinson, the chief executive of the National Franchised Dealers Association (NFDA), said that June's 28% increase in new car sales "builds on the continued strong momentum in auto retailing".
She added: "Retailers are seeing robust consumer demand and continued outperformance of the UK retail new and used car market.
"Franchised dealers are optimistic for trading over the summer albeit there will likely be a tightness in supply of new cars ahead as the shortage of semiconductors is hitting car production.
"We expect the industry to continue to perform well, with consumer confidence remaining high and retailers providing a first-class service to their customers".