The average UK car retailer saw their monthly profit soar by 189.7% year-on-year in what the SMMT had described as a "desperately disappointing September", according to ASE.
The automotive consultancy reported, compiled by former ASE chairman Mike Jones, revealed that the average retailer made a profit of £168,000 (2020: £58,000) during the month, despite new and used vehicle supply shortages.
"This continues the phenomenal profitability we have seen since March and pushed the rolling 12-month average return on sales up to 2.36%," Jones said.
Last month the Society of Motor Manufacturers and Traders (SMMT) reported that franchised car dealers had experienced the lowest new car registrations total since 1998 in a "desperately disappointing September" after volumes slumped by 34.4%.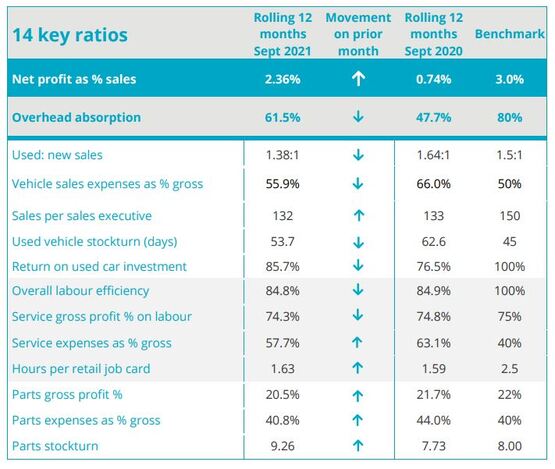 But Jones said the continued new car supply challenges helped to produce a positive trend for retailer profitability.
"Whilst registrations fell 34.4% year-on-year retailer profitability continued its growth on the back of strong margins and used volume growth," he said.
ASE said it had seen a stabilization in the used car profit margins being earnt by retailers over the past two months.
As prices continue to rise, retailers have held margin, however if wholesale prices continue to rise in Q4 retailers will need to ensure consumer demand remains robust at the higher prices to avoid their margins being squeezed, it said.
AM reported earlier this week that wholesale used car values had remained at their second highest level ever at BCA's auctions in October, despite signs of an "easing back" of 2021's "frenzied" market in the month's latter stages.
Auto Trader this week said that an 80th consecutive week of increasing used car values and the highest level of UK inflation for a decade was unlikely to temper consumers' appetite to buy a new vehicle after the average value on its platform rose by 26.9% to a record £19,766 last week.
ASE said: "With the new car supply shortages set to continue for another 12 months and franchises continuing to push their agency agendas retailers need to keep driving through efficiency savings to reduce their cost bases.
"Digitalisation provides a good opportunity to do this, however it requires hard work to implement effectively."