Stellantis brands outsold those of the Volkswagen Group for the first time as Europe suffered a 30% decline in new car registrations during October, Jato Dynamics has revealed.
Registrations decreased 30% to 790,652 across the 26 markets analysed by Jato as shortages of semiconductor microchips and other components continued to hamper car manufacturing and stymie the flow of vehicles into dealerships.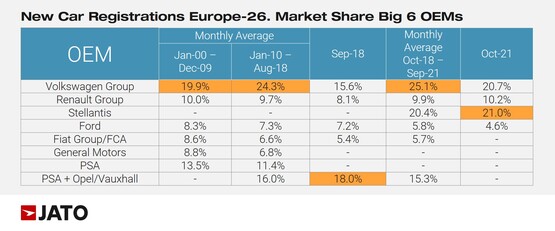 Year-to-date, registrations remain up 2.6% – to 9.85 million units – but the decline meant that the gap has once again narrowed when compared with the 7% rise was seen in September.
Jato's global analyst, Felipe Munoz, said: "The shortage of semiconductors is proving to be as severe as the COVID lockdowns of last year.
"We have seen factories shutdown across the continent, and at present the industry is struggling to find a solution to the supply chain crisis."
Last month marked the first time since its formation earlier this year, that Stellantis' car brands had outsold those of its German rival, the Volkswagen Group.
Volkswagen recorded a 42% slump in volumes last month, with double-digit drops in all countries except Ireland, with its smaller models feeling the brunt of the decline.
Munoz said: "Carmakers are being forced to prioritise their best-selling segments, meaning that the few available semiconductors are being used solely to produce SUV and EVs."
Jato's data showed market share for SUVs jumped from 40.7% in October 2020 to a new monthly record of 46.8% last month.
The rise came as manufacturers roll out a new range of elelctric vehicles (EV) in the segment. T
Hyundai-Kia posted strong growth of 23% in the segment in October, due to its latest launches, as Toyota, in 6th position, saw its volume increase by 3%.
A total of 181,300 units of EV and plug-in hybrid (PHEV) models were registered in October, Jato reported, accounting for a record 22.9% market share.
Diesel vehicles are struggling to gain traction in Europe, with market share dropping to just 19%.
Munoz said: "As we saw during the pandemic, the current crisis has proved to be more of an opportunity than a threat to the developing EV market.
"COP 26 marked a significant turning point for the industry as 24 countries and 11 OEMs committed to no longer producing ICE vehicles by 2040, and so the shift towards EVs will only accelerate further in the coming years."

Peugeot's 2008 SUV was Europe's biggest selling car last month – the first time it has achieved this since its introduction in 2013 – as five Stellantis-produced models featured in the top 10.
The Hyundai Tucson again performed well, up by 59% thanks to the new generation. Strong results were also posted by while the Volkswagen T-Cross +10%; BMW X3 +74%; Kia Sportage and Ceed, +23% and +26% respectively; Mitsubishi Space Star +45%; Ford Ecosport +36%; Tesla Model 3 +236%; Porsche Macan +38%; BMW 4-Series +31%; Volkswagen Arteon +103%; Porsche Taycan +41%; the Lexus UX +28%.
Among the latest launches, the Opel/Vauxhall Mokka secured a place in the SUV top 10; the C4 became Citroen's second best-selling vehicle; Renault's Arkana outsold the Megane and Kadjar, and the Dacia Spring was the third best-selling BEV, behind the Renault Zoe and the Volkswagen ID.3.