Europe's new car retail sector suffered its lowest November registrations for three decades as volumes declined by 18% due to ongoing semiconductor shortages.
Jato Dynamics reported that last month's total volume of 855,281 units, across 25 European markets, was 18% lower than last year and 29% lower than November 2019.
Year-to-date, Europe's growth in registrations is now just 0.4% compared to 2020.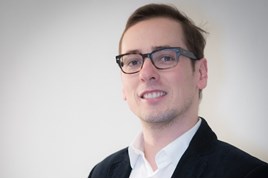 Felipe Munoz, global analyst at Jato Dynamics, said: "Although the market has not recovered entirely from the pandemic, the current problem does not relate to a lack of demand, but rather a lack of supply.
"When you consider the chip shortage in combination with local lockdowns experienced over the course of this year, there is a clear backlog of consumers wishing to renew their cars.
"This delay could have two main impacts: the first being that we see a large uptick in registrations next year if the shortage is solved; the second that consumers begin to adapt their buying patterns, moving toward keeping their vehicles for longer periods."
Jato said that vehicle production issues had a "notable impact" on the overall best-selling vehicle rankings in November.
Clio on top
The top position was occupied by the Renault Clio, however there was less than 200 units between the Renault and the fourth model in the ranking.
Registrations of the Volkswagen Golf and Toyota Yaris fell by 72% and 65%, respectively.
Discussing expectations for the 2022 used car market in the UK this month, Cap HPI head of valuations, Derren Martin, and Cox Automotive insight and strategy director, Phillip Nothard, both told AM that a significant uptick in new car production was a long way off.
Martin that his "biggest concern" for used car values was towards the end of next year, when supplies may come back on-line more widely, however, and he urged the sector to employ "cautious remarketing" to avoid a used car price drop if volumes do escalate quickly.
Car manufacturers are clearly prioritising the production of electric vehicles (EV) as they battle with issues surrounding the supply of semiconductors and other components.
EVs' soaring market share
Jato reported that registrations of low emissions cars totalled 217,709 units last month, accounting for 26% of total registrations.
The market share reflected that reported in Society of Motor Manufacturers and Traders (SMMT) data for the UK market.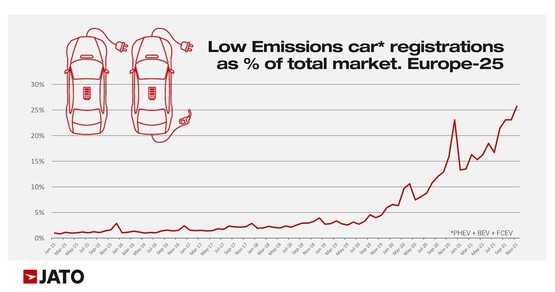 The volume for low emission vehicles was 41% higher than achieved for diesel, it said.
Despite last week's further reduction of the plug-in car grant (PiCG) buying incentive for motorists in the UK, Munoz said that offers were increasing the appeal of EVs across Europe.
He said: "If you want a new car in this current environment, the chances are that EVs are going to be more accessible given the range of offers and incentives available."
Tesla Model 3 led Europe's EV sales rankings last month, followed by the Renault Zoe and Dacia Spring, which were heavily criticised for their performance in Euro NCAP safety tests this month.
In the PHEV market, the most-registered car was the Peugeot 3008, followed by the Volvo XC40 and Ford Kuga.
Elsewhere in the sector, notable registrations performance came from the new Hyundai Tucson, which made it into the top 10, as Tesla more than doubled its registrations of the Model 3 and the new Toyota Yaris Cross came in at 24th position as it outsold the standard Yaris hatchback.
BMW's X3 SUV delivered an increase of 55%, ahead of the new Mokka (with almost 7,900 units), meanwhile, as the Dacia Spring and Skoda Enyaq registered almost 5,900 and 5,200 units each.
Citroen's new C4 became the Stellantis brand's second best-selling model; Renault registered 5,600 units of the Arkana, and Tesla registered 5,400 units of the Model Y – the fifth best-selling BEV in November, ahead of the Volkswagen ID.4 with 4,800 units.