Former Marshall Motor Group chief executive Daksh Gupta has said the "time is now right for me to explore new opportunities" following the announcement of his departure from the AM100 car retail group.
Gupta has spent 14 years at the Cambridge-based retailer, guiding it through its public offering to become a PLC and overseeing a period which has brought about the acquisition of 224 car retail businesses, a near-10 fold rise in headcount and revenues soar from £300 million to almost £4 billion.
But with a takeover by Constellation Automotive Group just weeks away, his immediate departure from the business, announced via the London Stock Exchange this morning (May 25), was quickly followed by a personal message reflecting on his time with the group.
"I wanted to share with everyone the news that I've agreed with the board to step down from my role of group CEO of Marshall with immediate effect", Gupta said in a statement issued via LinkedIn.
"What's been achieved with the team has been amazing, however from a personal perspective, I feel the time is now right for me to explore new opportunities.
"I have no idea what that will be and am very open minded about it. It's been an absolute privilege to have led the group's transformation and I'm incredibly proud of what our teams have achieved but also the manner in which it's been done.
"Constellation are inheriting an excellent business with great people and an incredible culture. I want to give my personal heartfelt thanks to board colleagues, past and present, my senior leadership team and every colleague within the group.
"I also want to thank our OEM partners for their support over the years, without their support the group would not have achieved the success it has. Marshall has been a significant part of my life for many years, and I shall miss it enormously.
"Finally, I want to wish the team at Constellation and all of the amazing people at MMH all the very best for the future."
Growth under Gupta
Gupta, who was the AM Awards 2021's Business Leader of the Year, described his time at Marshall as "an incredible journey", both me personally and for Marshall Motor Group.
Listing his highlights from his time at the helm, Gupta said:
Growing Marshall from a small privately owned group based in the six counties of East Anglia, with revenues of c£300m, to a publicly-listed national retailer operating in 37 counties with revenues heading towards £4bn.
Buying and selling 224 businesses in various transaction sizes, including Ridgeway, Motorline, SG Smith, Silver Street, Astle, Crystal, Progress, Devries, F Cross.
Seeing our headcount grow 10 fold to over 5,000 colleagues whilst achieving Great Place to Work UK status for 12 years in a row and be ranked in the UKs best workplaces for the last eight years in a row, including being the number one super large retailer across all sector's currently.
Being a great corporate citizen as well as a leader in promoting D&I and mental health issues.
Seeing the shareholders who came in at IPO in April 2015 benefit from a 292% total shareholder return.
Winning countless awards over the years, which for me is a reflection of the great team at Marshall.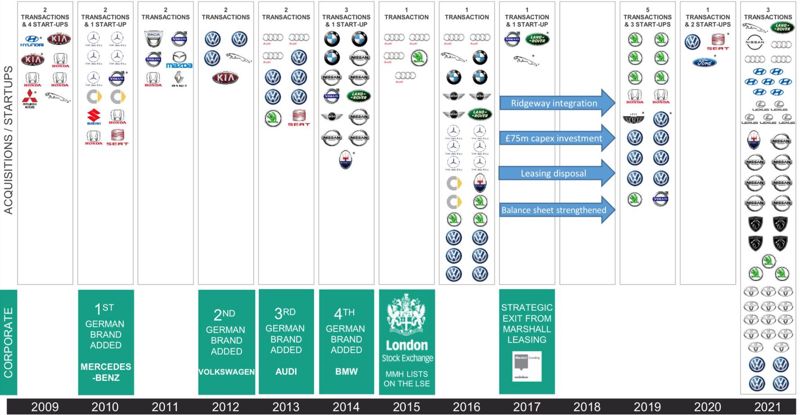 Hundreds of comments were added to Gupta's LinkIn post in an immediate response to the news of his departure this morning.
Among them was Martin Forbes, the president of Cox Automotive International, who said: "There is plenty one could say Daksh - I shall keep it simple: "Outstanding, your record speaks for itself - take a bow and drop the mic."
Automotive 30% Club founder Julia Muir said: "Sorry to see you leave Marshall's after leading them to huge success.
"I shall look forward to seeing you perform your fantastic inclusive leadership in another company that will be very lucky to have you."