Consumer data from Leasing.com has shown that compact and electric vehicles (EVs) topped motorists' new car wish lists in November.
Demand for EVs grew by 87% quarter-on-quarter during Q3 as the UK leasing market demonstrated an appetite for a "rapid transition" to net zero emissions, Leasing.com said.
The Volkswagen Golf retained its number one position in Leasing.com's top 10 league table of most enquired about vehicles, in November.
But the Mini Hatchback jumped from seventh position in October to second in November off the back of several strong offers for the Mini Electric variant, according to Leasing.com, as Tesla's Model 3 and the Volkswagen ID.3, continue to appeal to leasing customers.
There was a new-entry in the Leasing.com top 10 from the Volkswagen T-Cross, a small SUV, in amongst the Nissan Qashqai, Hyundai Tucson and Volkswagen Tiguan.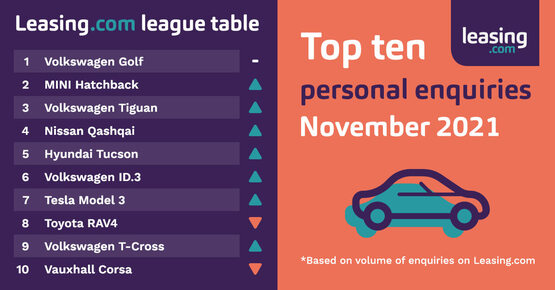 Paul Harrison, head of strategic partnerships at Leasing.com, said: "In recent months we've seen more economical drivetrains and compact vehicles surge in popularity, none more so than electrified hatchbacks and SUVs.
"The reality is that drivers are growing more conscious of their carbon footprint, particularly after the global scrutiny triggered by COP26.
"Greater environmental awareness, combined with rising fuel costs, has resulted in people making the switch to electric on mass in the new car market.
"The manufacturers with access to pockets of stock are the ones able to immediately capitalise on this consumer demand."
Among the trends said to have fed into the popularity of EVs in 2021 was the September 'fuel crisis', which resulted in some customers seeing the benefit of not having to visit a petrol station forecourt, and the impact of COP26 debates on climate change.
In the manufacturers league table, the popularity of the ID.3, Tiguan and T-Cross meant that Volkswagen was the most enquired about manufacturer for personal leasing in November on Leasing.com, with BMW and Hyundai rounding out the top three.