The UK's used car market ended 2019 just 0.1% down with 7.9 million sales following two months of growth in the second half of the year, the Society of Motor Manufacturers and Traders (SMMT) has reported.
A total of 7,935,105 used car transactions took place across the course of last year, down 9,935 on 2018, with SMMT data indicating that the average value of a vehicle had risen by 0.6% to £12,800 in the period.
After a slow start to the year, two quarters of growth revived the fortunes of the sector following a nine-quarter downward streak, with November and December showing their strongest performances since 2016, to ensure that the 2019 market remained the fourth highest year on record despite following three straight years of decline.

SMMT chief executive, Mike Hawes, said: "It is encouraging to see used car sales return to growth in the latter part of 2019 after a prolonged period of decline, and we need to see a similar rebound in new car sales if we are to meet environmental targets.
"A buoyant used car market is necessary to maintain strong residual values and, clearly, it is now outperforming the new car market."
In January the SMMT reported that the new car market had declined 2.4% during 2019 to end the year at a seven-year low.
Hawes said that the diverging fortunes of the new and used car sectors suggested that "weak consumer confidence and ongoing uncertainty over possible future restrictions on different vehicle technologies" are causing some car buyers to hold off buying new models.
He added: "This is delaying the fleet renewal we need now if we are to deliver immediate and continuous improvement in air quality and climate change."
The SMMT Said that its data indicated there had been continued robust demand for used petrol and diesel cars in 2019, with sales of the latter down just 0.6% to 3,297,953 and a 41.7% market share.
Petrol sales fell by an even more marginal 0.3% to 4,494,611 transactions, contrasting with zero emission, battery electric vehicle (EV) demand, which surged 21.8% to 14,112, but equivalent to just 0.2% of the market.
Combined, alternatively fuelled vehicles (AFV) were up by 23.4% with 135,516 changing hands and accounting for 1.7% of all sales, the SMMT reported.
"Meanwhile, transactions of the latest, cleanest Euro 6 models, available since 2015, were up 32.5% as more of them reached the used market, helping to address air quality concerns," it reported.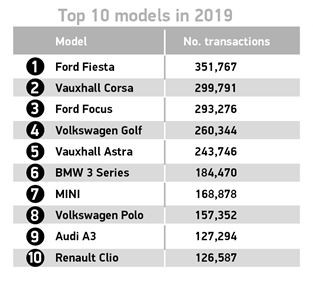 Superminis remained the most popular used buy, taking a 32.8% market share, as the lower medium and upper medium segments accounted for 27% and 11.8% of sales respectively – down 0.8% and 5.8%.
The fourth largest segment, defined by the SMMT as dual purpose, was the only one to post growth in the full year, up 11.1%, to take 12.1% market share.
Black was the most popular option for used cars in 2019, up 1.4% to 1.6 million sales, followed by silver and blue.
Pink was the fastest growing colour in 2019, up 14.2%, albeit with only 5,098 sales.
George Augustaitis, director of automotive industry analytics at CarGurus, said that searches for petrol and diesel cars had still dominated the used car market during, accounting for 97.5% and reflecting the SMMT's sales figures.
"While demand for alternative fuel vehicles is still relatively small in comparison, it did rise steadily throughout 2019, which had the effect of pushing up prices for certain models," said Augustaitis.
"For example, our Instant Market Value data shows that prices for older used electric Renault Zoes increased by 15% throughout 2019. This was as a result of the shift in dynamic between supply and demand as more buyers start to make the switch to electric."
The Renault Zoe finished 2019 as Auto Trader's fastest-selling used car after claiming the top two places in its monthly ranking of vehicles delivering a speedy sale.
It continued its sales success in January, according to the online marketplace, by maintaining its status as the UK's fastest selling used car.
Commenting on 2019's used car sales figures, Ian Plummer, commercial director at Auto Trader, said: "2019 was an incredibly turbulent year, but regardless, the used car market weathered the challenges proving just how resilient it is with 7.9 million transactions, a very stable year-on-year performance despite those headwinds.
"Following the general election and our official departure from the EU, the dust is starting to settle and the new year is looking slightly more optimistic as consumers show signs of an uplift in confidence. In January alone Auto Trader had 58 million visits – a record breaking number. And our latest consumer research shows that 59% feel more confident in being able to afford their next car than they did a year ago, indicating a positive sentiment for the year.
"To capitalise on this renewed confidence, retailers must now focus on ensuring they are stocking the right vehicles, and pricing them to the live retail market."