The Society of Motor Manufacturers and Traders (SMMT) has revealed that used car sales volumes declined by 48.9% as the COVID-19 coronavirus pandemic delivered a "devastating" impact to Q2 trading.
Figures published by the industry body revealed that 1,039,303 vehicles changed hands during the period, leaving the sector 28.7% (2.89m) down year-to-date to the end of June, with 85% (1.16m) of 2020's volume losses incurred in Q2.
The SMMT said that the pace of decline gradually eased throughout the quarter as dealers re-opened showrooms, but used car sales remained 17.5% down year-on-year in June as Welsh and Scottish retail sites remained closed.
An 11.3% year-on-year rise in new car registrations during July could provide hope that a used car recovery could follow the full reopening of all UK car retailers by the start of last month.

SMMT chief executive, Mike Hawes, said: "As devastating as these figures are, with full lockdown measures in place for the whole of April and May, they are not surprising.
"As the UK starts to get back on the move again and dealerships continue to re-open, we expect to see more activity return to the market, particularly as many people see cars as a safe and reliable way to travel during the pandemic.
"However, if we're to re-energise sales and the fleet renewal needed to drive environmental gains, support will be needed for the broader economy in order to bolster business and consumer confidence."
The SMMT said that the used car sector's Q2 decline had come on the back of a bumper January and February – when volumes rose 2.9% and 4%, respectively.
The pace of Q2's decline eased as the quarter progressed, it reported, with a peak year loss of 74.2% in April.
"It is unclear how long it will take for the market to recover given economic uncertainties and a need for greater activity in the new market to drive fresh stock," the SMMT said, however.
The eBay Motors Group, National Association of Motor Auctions (NAMA), Cap HPI and Cox Automotive have all highlighted the difficulties associated with stock supply in recent weeks.
Buoyant prices have been the result, however, with dealers being able to sell slightly fewer cars at a higher margin, according to Philip Nothard, customer insight and strategy director for Cox Automotive UK.
The SMMT said that demand for pre-owned electric vehicles (EV), which grew by 44.8% in the first quarter of 2020, declined in the second quarter, falling by 29.7% to 2,288 sales, although their market share remained stable at 0.2%.
At the same time, sales of plug-in hybrids (PHEV) dropped 56.3%, it added, with just 3,249 changing hands.
Meanwhile, sales of petrol and diesel cars decreased by 49.2% and 48.5% respectively, although combined they still accounted for 98.3% of sales in the quarter, equivalent to 1,021,963 units.
Superminis remained the most popular used buy, despite a sales volume decline of 52.4%, with 316,570 finding new owners in Q2, representing 30.5% of the market.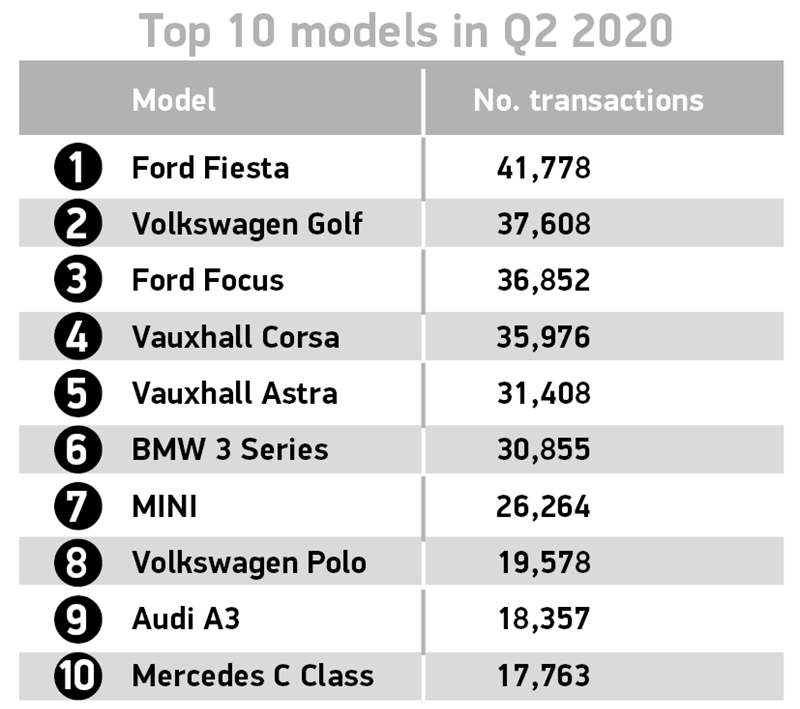 Auto Trader commercial director, Ian Plummer, said: "With the majority of Q2 under lockdown conditions and all but a few retailers unable to sell in a meaningful way, it's little surprise to see such a significant decline in used car sales.
"Over the full year, we almost certainly won't make up for all the weeks of lost sales, however, from what we're observing on our marketplace and what we're being told by our customers, Q3 is tracking ahead of the same period last year and is likely to finish that way."
Plummer said the sector should also be encouraged by buoyant used car prices. He added: "Unlike the financial crisis, where retailers slashing their prices to entice car buyers had a very negative impact on the financial health of the market, with COVID-19, retailers have held firm.
"With such high demand, coupled with challenges in the supply chain, it's absolutely the right decision, and in fact we've seen four months of consecutive growth in used car prices, with July recording the highest rate of growth since August 2018."
Jonathan Holland, managing director of remarketing specialist ADESA UK, said: "Although the size of the full year market will be significantly reduced, there are still opportunities for dealers to close the year as strongly as possible by going online to source the optimum mix of models for their customer base as soon as vehicles become available on specialist digital remarketing platforms.
"Immediate access to desirable stock will be crucial over the coming months, especially with the major physical auction halls remaining closed to trade buyers."