Aftersales departments have been kept busy for the best part of a decade by a buoyant new car market with each dealerships' own customer base keeping workshops full.
But issues with supply, the switch to electric vehicles (EVs) and the acceleration of digital, spurred on by the pandemic, is changing the outlook fast.
Genuine online bookings have yet to come fully to fruition with many brands and dealers relying on a request-based process whereby customers select their slot online with confirmation by phone.
However, it is the online check-in which has proved to be the success story.
DIGITAL CHECK-IN
Taking much of its inspiration from the airline industry, eDynamix launched its online check-in facility in March. Strategic account director Steve Ure says: "It's been a game changer for us."
According to Ure, brands ditching the signing of documents at service reception in response to COVID helped facilitate the growth of online check-in. As such, eDynamix set out to create an all-encompassing digitised system enabling customers to check-in vehicles online prior to arrival on site.
Initially, a third of customers would check-in online, but that rapidly gained pace with two-thirds now doing so.
As well as capturing a digital signature, customers are reminded of any outstanding work from a previous electronic vehicle health check (eVHC) with a prompt to book plus recommended options such as an air conditioning service, fuel treatment or wheel alignment.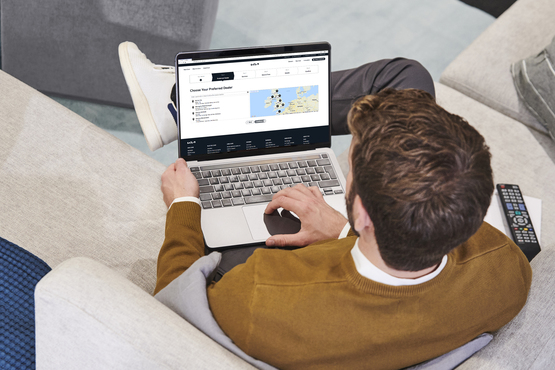 Ure says: "They are things that you would love your service advisors or your contact centre staff to offer customers every time. But, when people are booking in, they just want to get booked and get off the phone. When you send them the online check-in, they can carefully consider everything.
The sales it's generating are just incredible."
July saw an average additional £1,600 from add-ons per dealer per month while outstanding eVHC work added an average £3,000 per dealer per month. Customers can also free type any requests.
Altogether, an average £10k per dealer per month is being generated in incremental business.
Ure adds: "We could not believe it ourselves. We did not set it out to be a revenue-generating tool, that's just what it became quickly. We intended it to be a service booking reminder, exactly the same process as when you check-in for a flight, we borrowed so much from the airline industry."
By comparison, only around 10% of customers utilise online service bookings with a key developmental issue being the inability to book direct into the document management system (DMS) although eDynamix expects its solution to be live by the end of the year.
Danish company Tjekvik also provides online check-in for service vehicles and reports similar successes. Currently, 31% of customers check in their vehicle beforehand and 40% of those offered utilise the key deposit locker facility on the day.
Tjekvik can attribute £1.5 million of added value products, year-to-date as of July 31, to the online check-in system. Customers are asked a few simple questions such as pre-approval of additional spend up to £50 or pre-approval to replace items like windscreen wipers if required as well as selected add-ons while the system has generated 11,700 new service plan requests so far this year.
In addition, Tjekvik delivers service plans and payment options for dealer providers such as Bumper and EMaC, and can collect payments via Barclaycard and WorldPay for services. Since May, £979,000 has been paid via its platform.
Added value payments in July alone across dealerships where the system is in place (currently 99 with another seven due to go live) was in excess of £200,000 with customers selecting an air-con service accounting for £110,000.
UK business development director Nick Pratt says: "With all the demands on service advisors, the check-in kiosk frees up their time which, in turn, means customers have a better service experience. It is very much a part of the omnichannel dealership."
DRIVING AFTERSALES ONLINE
With a background in aftersales for some of the largest dealer groups in the UK, Gavin Ruddick has been helping Book My Garage establish Secret Service, which aims to help franchised retailers boost workshop bookings.
When the pandemic forced dealerships to close, most dealers had no means to manage service bookings online and turned to the platform.
Around 80% of Secret Service customers are conquest while regeneration of lapsed customers account for around 7% and the remaining are active franchised sector customers exploring digital options for routine service bookings largely driven by convenience.
With the invoice for a Secret Service booking typically 15% higher than the franchised dealer's average booking, since older vehicles need more work, the platform is fast becoming a vital source of aftersales business and has, not surprisingly, captured the attention of manufacturers.
"Consumers are discovering that the franchised sector is not as expensive as they thought,"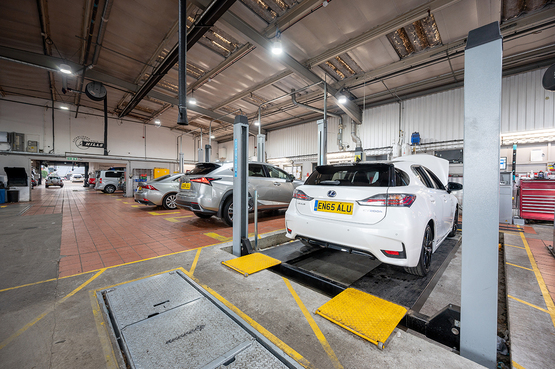 Ruddick says. "And the service experience is significantly greater.
"A huge proportion of potential service customers are unknown to the franchised dealer. That's where Secret Service comes in, accessing them online. Many dealer groups today take around 15% of bookings online when they should be generating at least a third.
"They are not going to achieve that if they don't engage with something like Secret Service. Generating service customers online has very much been an afterthought, retailers have been very much behind the curve."
Aftersales finance provider Bumper is also proving itself a digital sales generator for franchised dealerships' aftersales departments, enabling customers to spread the cost of vehicle repairs, with 65% of the AM100 offering its services.
Integrations with third-party suppliers such as CitNOW allows customers to receive a video of work required, authorise and select 'check out' with Bumper as a payment method,either as a one-off or to spread the cost over a number of months interest-free, incentivising customers to authorise required work.
The majority of Bumper customers are sourced via a dealership itself. But some are actively using its portal to find a Bumper partnered dealership.
However, consumers utilising this route are still unable to book online directly with the dealer although this is in development.
Jack Allman, Bumper chief commercial officer, says: "We are now seeing in excess of £1m in pre-approved applications. These consumers want alternative forms of payment."
THE SERVICE ADVISOR
Inevitably, such digital applications raise questions around the future of the service advisor and service reception, but all providers are adamant the role remains relevant and is simply evolving.
Ure says: "Our solutions are not being developed to remove or reduce the number of service advisors, but to change how dealers support the customer. Digitisation is just changing how they work."
Solutions such as the eDynamix Autopoint Lockers, which are auto-reserved at the online check-in with around 70% of customers keeping the option in place and around 30% using them on the day, frees up service advisors to devote time to customers who need or want interaction.
Digital providers view themselves as an aid rather than replacement.
Allman says: "There is a huge chunk of customers who want to come into the business and speak to a service advisor and this (Bumper's payment platform) helps give them the time to provide these people with human interaction rather than having a queue of people, many of whom just want to pay and go."
Pratt adds: "The whole dynamic of the aftersales business is changing with the increase of EV ownership which requires less servicing. In Norway (where EV ownership is far more widespread), dealers saw aftersales volume reduce by 45% from 2018 to 2019 so dealers need to see almost double the volume to produce the same output of parts and labour sales.
"Dealers can't simply employ more people to handle the increased throughput so will need to turn to digital hands to keep up with demand."