Inchcape UK Lexus Guildford and Motorline Lexus Cardiff have been named among the winners of Lexus Kiwami awards in 2020.
The award is the most prestigious customer experience recognition that can be offered to any Lexus Centre in Europe and is presented to retailers who have proven their ability to consistently take customer experience to new levels.
Inchcape UK's Lexus Guildford retail centre have been recognised by Lexus' director, Ewan Shepherd, for its ability to consistently take customer experience to new levels, whilst still delivering an exceptional business performance.
The award places the retail centre within the top 14 centres in Europe (top 5%).
David Graham, franchise director at Inchcape Lexus, said: "It is a well-deserved achievement for the team at Lexus Guildford and recognises the record breaking results the centre delivered in 2019.
"Inchcape was also recognised as Lexus dealer group of the year for 2019 so this really does cap off a fantastic year for the overall Lexus team, during which we also saw Leicester Lexus achieve an upper quartile placing, following our acquisition of the business from the Sytner Group in early 2018."
Speaking ahead of yesterday's (June 1) reopening of car retail showrooms across the UK, Graham added: "Now that we have a date to re-open the showroom, I know the team will be enthusiastic to continue with their excellent customer service and incorporate our adapted processes for the safety of our colleagues and customers."
Wendy Preston, head of business at Inchcape Lexus Guildford, said: "I am so pleased that our team have been presented with this award. It's given a huge boost to an already fantastic team and we all can't wait for June 1 when we can re-open our doors for our customers and continue to support them in a new world of retail."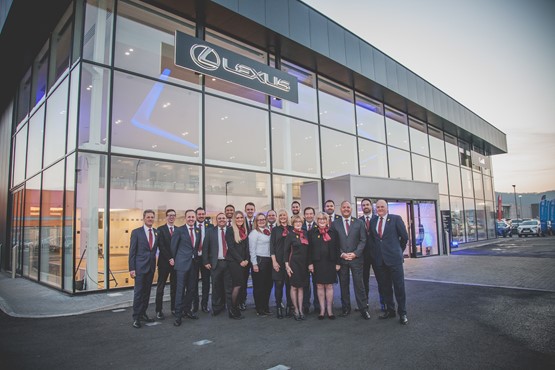 Motorline's Cardiff Lexus centre was also rewarded for its excellent customer service as it received a Kiwami award following its move to new premises on the city's Hadfield Road.
The centre is not new to awards wins having won the Lexus Centre of Excellence Award for five-Star experience twice in the last three years, along with the Lexus Aftersales Customer Satisfaction Award, which it won in 2018.
Motorline chief executive, Thomas Obee, said: "The recognition from Lexus GB reflects our ongoing commitment to delivering a premium and very personal service for our customers to enjoy.
"Our pursuit of the very highest standards and proud history provides the ideal foundation for us to deliver even greater success for the Lexus brand".
Last week AM reported that Lexus UK's franchised retail network had taken the Japanese premium car brand to the top of a What Car? ranking of the UK's top car service and maintenance providers.
The result came less than a fortnight after the brand topped the rankings of the Auto Express Driver Power customer satisfaction survey for a fourth consecutive year – beating Kia and Subaru to top spot in 2020.