Cazoo founder Alex Chesterman told AM that it is "too early to speculate" about a possible market floatation of the online car retail business, following publication of its 2019 annual financial results.
The business said in an annual report that it remains "well positioned to continue in its aim to transform the way people buy used cars" after delivering a £18.9 million pre-tax loss during the 12-month period to December 31, 2020.
But as ASE chairman Mike Jones said that accounts prepared under IFRS suggested the possibility of future potential flotation aspirations, Cazoo Chesterman insisted it was not something yet under consideration.
AM initially speculated about the possibility of a public offering following the appointment of Stephen Morana as its new chief financial officer (CFO) back in June.
At the time Cazoo highlighted his central role in the flotation two leading UK digital businesses in recent years, Betfair and Zoopla, both achieving "multi billion-pound valuations".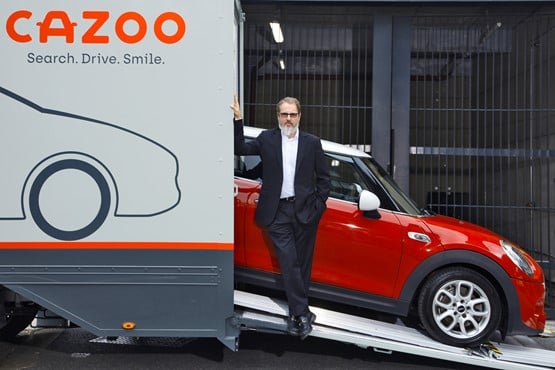 In conversation with AM, Chesterman insisted that Cazoo's public offering was not yet under consideration, however. He said: "It's currently way to early to speculate about that. We're in our first year."
But he added: "We'd think about all options at some point in the future, as the business grows."
Cazoo, which begun the roll-out of its physical Customer Centre car handover and logistics hub network last month, only began trading in December last year.
The result was a set of accounts which detailed a turnover of just £1.18m for the 12-month period ended December 31, 2019, accompanied by multi-million pound losses.
As of December 31, 2020, Cazoo reported having a net cash balance of £35m, net assets of £63m and undrawn stocking facilities of £38m.
Liquidity remains no issue for the online car retailer, having increased its funding to date to £450m with an "over-subscribed" recent funding round, which attracted new investors to the business.
A valuation of the business, completed at the time of the funding round, stated that Cazoo was now worth more than double the $1bn total which earned it "unicorn" status earlier this year.
It is currently awaiting the results of a new nationwide marketing campaign and the start of the Premier League football season, with high-profile exposure guaranteed by sponsorship deals with Aston Villa and Everton FC.
In its annual financial results statement, Cazoo's directors said: "The directors believe that Cazoo Limited is well positioned to continue in its aim to transform the way people buy used cars.
"It aims to provide better selection, value, quality and convenience to give our customers total peace of mind when buying a used car online."
Reflecting on its trading performance during the post-reported period, which was heavily impacted by the COVID-19 coronavirus crisis, the statement added: "Given the company's performance in the first five months of 2020, its strong balance sheet and additional funding secured in March 2020, the directors believe that the business is able to continue to operate effectively for at least 12 months from the date of the report and remains a going concern."