Norton Way Nissan received a "huge lift" when its philosophy of promoting electric vehicle (EV) ownership as a 'way of life' resulted in recognition at the AM Awards.
As AM invites car dealers to get their entries in for this year's showcase automotive retail awards event, ahead of a deadline later this month, the AM100 retail group's corporate director, Richard Siney, reflected on what a win meant for his business.
Norton Way Nissan emerged victorious in the EV Dealership of the Year category in recognition of its sales initiatives and its exploration of V2G technology.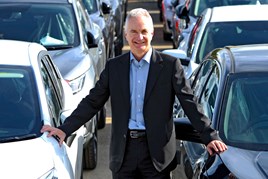 "To receive the Award on behalf of the whole dealership was a very proud moment," said Siney.
"Norton Way Nissan's efforts to promote EVs as a way of life has involved the full dealership team, the recognition of the win further backs up how fully the team has embraced this positive EV attitude."
In 2022 the AM Awards heads to London, with a prestigious handover ceremony and celebration set to take place at the Park Plaza Westminster Bridge Hotel on May 12.
Recent weeks have seen business leaders from TrustFord, Hendy Group, Arbury Group and Waylands Automotive among those the speak to AM about what a win at the annual event meant for their business.
The benefits range from a significant boost for staff morale, as the awards recognise their efforts, to the potential of raising a business' profile to boost trade or recruitment.
Siney told AM that Norton Way had received "a great deal of interest" in its V2G/V2B electric infrastructure project as a result of the AM Awards win.
Aftersales manager, Michael Hunter, added: "It's been a huge lift to the whole team to be recognised for the hard work that they have put in to achieve this."
A number of new awards categories have been added to the AM Awards for 2022.
Among them are: Independent Dealer of the Year; Franchised Workshop of the Year; Independent Workshop of the Year; Online Consumer Experience of the Year - Independent Dealer; Leader in Diversity and Inclusion; and Leasing Operation of the Year.
Visit the AM Awards 2022 website now to enter.