Sytner Group and CarShop owner Penske Automotive has reported a record set of 2022 annual financial results in which revenues rose 9% and pre-tax profits swelled by 16%.
The US-based car retail giant revealed that premium and luxury car brands, including Bentley, Audi and Mercedes-Benz accounted for 71% of its $27.8 billion (£23bn) in revenues during the period to December 31, 2022.
Earnings before taxes increased to $1.9bn (£1.57bn).
New York Stock Exchange-listed Penske's UK divisions contributed slightly less than in 2021, however, accounting for 30.4% of the group's income, compared to 31.2% in the prior year.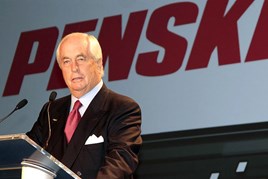 Group chairman and chief executive Roger Penske said: "Our international diversified transportation services company produced record results in 2022.
"We retailed more than 447,000 new and used vehicles through our retail automotive operations and over 20,000 new and used commercial trucks through our commercial truck dealerships while our investment in Penske Transportation Solutions continues to benefit from the growth in its vehicle fleet.
"I am also pleased to report a strong fourth quarter driven by demand for new vehicles in both our automotive and commercial truck dealerships coupled with continued service and parts revenue growth and expense control.
"On a same-store basis, fourth quarter retail automotive new unit sales increased 11% and commercial truck new units increased 36% while service and parts revenue increased 6% for retail automotive and 16% for commercial trucks."
Penske owns around 140 Sytner dealerships and more than 20 CarShop sites in the UK.
AM100 retail group Sytner grew its franchised retail footprint in 2022 with the acquisition of five Mercedes-Benz Retail Group dealerships in the OEM's North London territory.
It also added a trio of BMW and Mini dealerships with the acquisition of Stevenage-based Specialist Cars and rebranded Guy Salmon's network of 17 Jaguar Land Rover (JLR) dealerships as part of a £164m investment in the British car brands' retail network.
Penske's 2022 results showed that its CarShop used car supermarket division – now operational in the UK and US markets – sold 12% more vehicles in 2022, at 71,242 units, as revenues grew 17% to $1.72bn (£1.43m).