The Mercedes-Benz GLA Class compact SUV topped the rankings of the fastest-selling used cars advertised on Auto Trader as dealers continued to see a reduction in days to sell.
The premium German SUV, launched back in 2014, took an average of just 23 days to sell in the latest market data from the online classified advertising specialist as the average speed of sale increased by four days on the previous month.
And the GLA lead a top 10 fastest sellers that featured no fewer than eight SUVs, including the Range Rover Evoque, Volkswagen Touareg and Ford Edge in the month to June 21.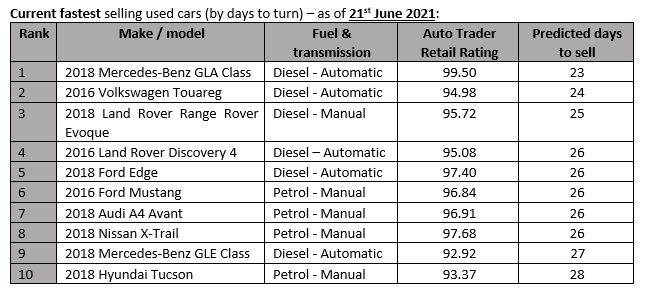 Jason Allbutt, head of product management at Mercedes-Benz Cars UK, said "The GLA – which is based on the very successful A-Class – is one of our best-selling models thanks to its wide range of frugal engines, including the plug-in-hybrid GLA 250 e.
"Its low running costs and generous level of standard equipment mean that the GLA continues to impress."
Auto Trader pointed out that the market is increasingly being dictated by issues of supply and demand.
Its data showed that demand for SUVs is up 21.6%, the highest level of demand for any body type, as supply declined 18.9%.
The trend feeds into an Auto Trader data which shows the market health for SUVs to be a healthy 49.9% on its 'market health metric', it said.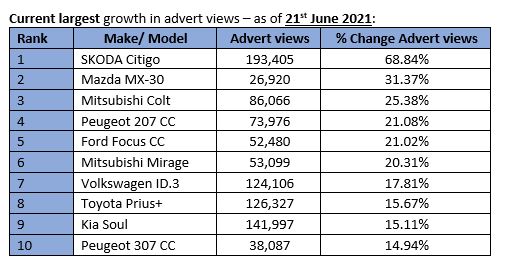 Auto Trader's advert views also showed that car buyers may be turning to the used car market for a quick fix alternative to new models that might be in limited supply or are no longer available.
Earlier this month AM reported on What Car? survey findings which showed that a third of new car buyers are switching to the used car market in a bid to avoid stock availability issues and gain better value for money.
The Skoda Citigo city car, recently axed in both electric vehicle (EV) and petrol guise by the Czech car maker, leaving the new Enyaq as its only pure EV, topped the rankings for the biggest growth in viewed adverts.
The fast-selling GLA racked up 662,910 advert views over the course of the last month, but it was the Citigo that delivered a surge in attention from buyers, with views up 68.84%.
Mazda's newly launched debut EV, the MX-30 crossover, was in second place, meanwhile.
Auto Trader's market data also showed growing buyer interest in alternative fuel vehicles, with demand for electric and hybrid powertrain vehicles now higher than internal combustion engine (ICE) vehicles, with demand for petrol up only 5.2% and diesel up 1.5%.
Auto Trader's director of commercial products, Karolina Edwards-Smajda, said: "The extension of lockdown restrictions seems to have done little to slow the strong buyer demand we continue to see across the UK.
"We've seen the days to turn of the fastest selling cars drop and average used car prices continuing to rise, with last week's seeing the 58th consecutive week of price growth.
"It's crucial for retailers to continue to keep up to date with the ever-changing market and ensure that they are pricing to market to maximise profitability."