Motorpoint chief executive Mark Carpenter is rooting for a strong September of new car registrations to get supplies flowing and ease an "overheated" used car sector.
Carpenter said that his car supermarket group was "acutely aware the people are really beginning to feel the financial pinch" and is keen to see a more abundant supply for his retail sites that would help bring used car prices down.
Commenting after yesterday's (September 5) Society of Motor Manufacturers and Trader's announcement that new car registrations rose for just the second time in 2022 last month – and by a marginal 1.2% –he expects supplies to continue to struggle to keep pace with demand.
"It's terrific to see there was a small growth in new car registrations in August and that supply is beginning to come through to meet the demand we all know is out there," said Carpenter.
"However, August is traditionally a very slow month for new car registrations and so it's likely we'll see pretty much the same picture of supply struggling to keep pace with demand when we see September's figures.
"In reality we'll need the upward momentum to continue in September for the increase to be meaningful."
Motorpoint is poised to open a car supermarket in Edinburgh as it continues to drive ahead with an ambitious a mid-term growth strategy aimed at taking its annual revenues to £2 billion.
In May it expanded to 17 used car retail locations with the opening of a new, 1.5 acre, 120-vehicle dealership in Portsmouth.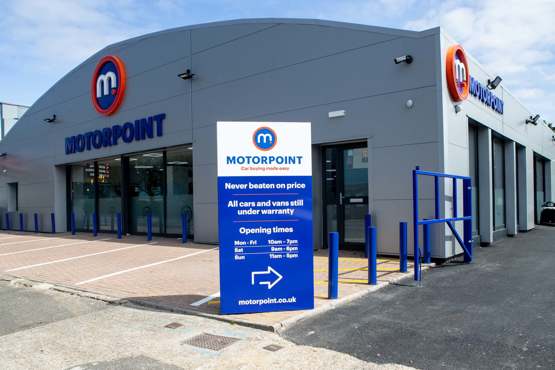 And in a Q1 trading update published back in July it revealed a 30% rise in revenues to £420 million and its plans for new sites in Edinburgh, Coventry and Milton Keynes.
Carpenter said that the business is more focussed than ever before on achieving affordability to its customers, however, as the cost-of-living crisis deepens.
He said: "We are putting more effort than ever before into making sure we have the right cars in stock at the right prices to make sure car buyers can be assured of getting the best possible value for money in these difficult times."