When Arnold Clark chief executive Eddie Hawthorne openly conceded that he had initially felt the COVID-19 crisis would be "over by Easter", it was clear that nobody in the sector could have imagined being in lockdown 12 months on.
Even the sector's most pessimistic car retailers would have been hard-pushed to predict that they would be waiting once again for showroom reopenings as the UK reached the first anniversary of Prime Minister Boris Johnson's announcement that retail would close its doors on March 23, 2020.
But as Vertu Motors' Robert Forrester took to twitter this morning to mark a year passing since "the worst day" in his career, the sector is also able to acknowledge an acceleration in retail evolution which has future-proofed many for challenges that were already on the way.
And the sector has also been able to acknowledge the role that Government's fiscal measures, some OEM partners' swift support and suppliers efforts to mitigate costs have had on their business.
At the beginning of March last year Marshall chief executive Daksh Gupta decalred in an AM News Insight report that COVID-19 coronavirus posed the 'biggest threat' to UK car retailers.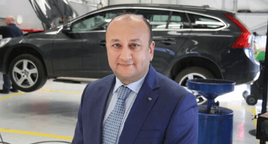 Speaking at AM Live Virtual 10 months on, Gupta said he was proud to have been part of a team who decided to close its car retail business ahead of Prime Minister Boris Johnson's lockdown announcement a year ago.
"To make that call is pretty brave, to shut 132 operations with over 4,000 people. I was really proud we'd done that," he said.
Gupta also told AM Live Virtual how the business started tracking business decisions in minutiae after COVID-19 struck.
He begun chairing twice weekly executive committee meetings, on a Tuesday and a Friday, and took minutes himself – logging every action.
Gupta said: "When you capture the action, you know who's doing what and when by. We've kept that going and we are now on over 500 actions. From a business continuity perspective that was key."
Marshall has weathered the COVID storm in impressive style.
Earlier this month Gupta told AM that the group would consider repaying its CJRS furlough support after reporting 2020 financial results which showed revenues down by 5.3% to £2.15bn as pre-tax profits rose 3.7% to £20.4m.
Nonetheless, Gupta is keen to get back to trading and back out into his dealership sites.
While he said video conference meetings had proven to be efficient, he said: "I'm not a person that likes to sit behind a desk."
For Hawthorne, the COVID experience has been a sobering process.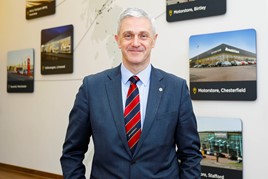 As lockdown drew to an end in June last year, Hawthorne admitted in an interview with AM that he initially felt that the COVID-19 coronavirus crisis would be "over by Easter", later conceding that it had fundamentally changed car retail.
Hawthorne said that his first reaction had been that the health crisis would have "all blown over in two to three weeks" but asked "how naive was I?"
Last week Hawthorne suggested that Arnold Clark would be taking a pragmatic approach to its return from the latest 'Lockdown 3' restrictions, stating that the coronavirus pandemic would not simply "go away" in mid-April.
Hawthorne told AM that the trend of the COVID-19 pandemic across the UK has been mirrored among the employees of the top AM100 retail group, with "hundreds of staff" self-isolating or affected directly by COVID during January spike in infection rates.
"As of today, that number has come down to 28, so things are looking up," he said.
Car retail appears to have adapted well to COVID-19, with an race to adopt new digital retail methods and consumers becoming more open to online purchasing to ensure driving sales to a point where Auto Trader could report car sales volumes around 90% of their seasonal norm in early March.
However, Hawthorne and Gupta remain among the business leaders who are well aware of the toll the pandemic has had on the car retail sector and its workforce.
"It doesn't matter whether you're a CEO general manager or working elsewhere in the business – everybody will have had a very difficult year," said Gupta.
For more on the lockdown lessons that motor retail has learned 12 months on read the latest AM magazine, free, here