Zerolight has created what it claims is "the world's most advanced car-buying journey" to deliver UK sales of the record-breaking Lucid Air – a Tesla rival claiming the world's longest electric vehicle (EV) range.
The online configurator specialist, which counts Pagani and Lamborghini among its clients, has created a cloud-based platform to allow Lucid customers to configure their vehicle using graphics and assets used in the development of the California-based carmaker's debut vehicle.
And Darren Jobling, Zerolight's chief executive, suggested that the system is perfectly suited to a car that claims to set new EV benchmarks with well over 1,000PS, a 517-mile potential zero-emissions range and 235mph top speed.
Jobling, who featured in one of AM's '10 minutes with...' interviews, said: "This is the world's most advanced car-buying journey, the benchmark against which all automotive shopping experiences will now be compared.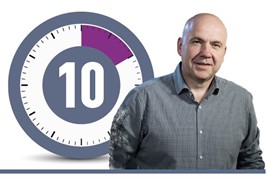 "By bringing Lucid Motors' vision to life, we have demonstrated how cloud-based 3D visualisation can transform decades-old sales structures and modernise every aspect of the purchase journey. With the cloud, we are reshaping the way the world buys cars."
Launching in the US next year, a UK arrival date for the Lucid Air premium saloon is yet to be fixed, but the carmaker – which will produce the new EV at a factory in Arizona – is understood to be already taking deposits of £770 from interested buyers.
The model is claimed to be "the most aerodynamic luxury car in the world", with a drag co-efficient of just 0.21 – less than the new Mercedes-Benz S-Class – and also the first EV to cover a quarter-mile sprint in less than 10-seconds.
AM understands that prices for the Lucid Air will start at around £40,040 (including US EV incentives) when it goes on sale in its home market.
That buys a 400PS rear-wheel-drive version claiming a 240-mile range from a 75kWh battery pack.
The £67,250 Lucid Air Touring delivers 620PS and a range of up to 406 miles, while the Grand Touring is £101,060, delivering 800PS and that record-breaking range.
A range-topping, all-wheel-drive Dream Edition, is the most powerful, with 1,080PS available for a price of 124,130
ZeroLight, which entered the automotive space from the gaming industry, has created the Lucid Air "Design Yours" Configurator to underpin sales of the car.
It uses ray-tracing technology, which is the same tech leveraged in advanced video games to bridge virtual and physical worlds, to provide a mobile-first experience.
Deployed and streamed from the cloud, the configurator allows customers to choose between a number of interchangeable California-inspired backgrounds – complete with life-like features, such as moving waves and chirping birds – as they build their Lucid Air on any device.
ZeroLight said that it had worked with Lucid Motors to "seamlessly integrate each stage of the customer journey into a consistent, end-to-end experience that blurs the lines between an online and in-store experience – making it possible to personalize interactions with customers in real-time".
ZeroLight's new Concierge system – applied for the first time with Lucid – claims to enable a customer to interact with a car from the comfort of their home while a sales representative virtually guides them through its key features and configuration options.
Derek Jenkins, Lucid Motors' vice-president of design, said: "Lucid Air ushers in a new era of luxury mobility that delivers a distinctly elevated level of integrated design and technology.
"We have built a customer experience that mirrors this progress in every sense, and in partnership with ZeroLight, we have created a uniquely rich journey where the customer has the freedom to explore, configure, and purchase the Lucid Air on their own terms, at any time, on any device."
Lucid Motors looks set to be one in a growing list of new car brands to enter the UK with a digitally-led sales offering.
Last year, it prompted AM to ask 'Will Britain ever host a new car dealer network again?'
Geely's Polestar Cars will launch this year, with the opening of a first Polestar Space showcase store operated in London by Endeavour Automotive, before Lynk&Co also serves up its electrified range of SUVs online.